Back
Area Church News April 26th Edition
Lawndale Baptist Church, Lawndale
A free community supper will be held at Lawndale Baptist Church, 407 W. Main St., Lawndale from 5:30pm to 6:30pm the first Thursday of each month. Everyone is welcome. For info call Jane Grigg at 704-538-8794 after 5pm.
Palm Tree UMC, Lawndale Read More ...

County Extension Center Welcomes New Staff Member
The Cleveland County Extension Center is pleased to welcome Julie Flowers to its staff. Formerly a horticulture program assistant with the Gaston County Extension Center, Julie will now serve as an area consumer horticulture agent for Cleveland and Gaston Counties. Read More ...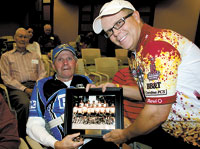 Stan Shaw, presents Gary with a memorable photo of the original Foothills Cyclists.

Friends Pay Tribute To Gary Patterson
Since the mid 80's, one of the local pioneers who introduced many people to the sport of cycling is Gary Patterson. Gary loves the sport and has enjoyed helping and teaching anyone interested. Read More ...
M.A. Andrews
Shriners North Shelby Fundraiser
Projecting the Shriner's slogan, "A Man Stands So Tall As When He Stoops To Help A Child!", the Piedmont Shrine Club held their annual fish fry for the benefit of North Shelby School. Read More ...
M.A. Andrews
Bible Study: Hungry Eyes
Growing up among Christians, watching and studying their way of life and how they treat each other, has an effect on a young boy as he grows into manhood. Read More ...
By: Evangelist W.C. "Dub" Dellinger
Dirtworks, PC Wins Award for Life Enrichment Center...
Dirtworks, PC, was awarded the 2012 Honor Award given by American Society of Landscape Architects New York Chapter (NYASLA) for the Life Enrichment Center. "The NYASLA Chapter awards bolster local visibility, acknowledge and promote the work of our membership and publicly recognize excellence in landscape architecture," Read More ...

SCENE FROM BLACKSBURG'S IRON CITY FESTIVAL
At Blacksburg's annual Iron City Festival on Saturday, April 21st, crowds filled the streets for a great time of family fun. Sounds of the "Ben Gatlin Band" filled the air, along with the aroma of festival foods. Our South Carolina neighbors sure know how to throw a great party.
Read More ...