It's time for the fair!
There's just nothing quite like it, at least not in this area: The Cleveland County Fair is here! Since 1924 this event, which has become North Carolina's largest agricultural fair, has welcomed area residents with a traditional mix of rides, exhibits, shows, games, food and animals.
Read More ...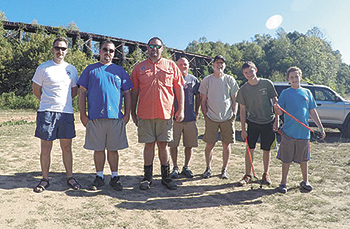 Pictured left to right: Jordan Tubbs, Tyler Brooks, Layne Owen, Geo Heffner, Dennis Huntley, Ruben Gonzalez and Matthew Tallent.
Half ton debris removed from First Broad River in Shelby
On September 19th, Boy Scout Troop 118 members, Shelby citizens, and Keep Shelby Beautiful volunteers participated in a First Broad River Clean-Up Event
Read More ...
View more Sports
FAIR SEASON...
The 91st Annual Cleveland County Fair is October 1-11th, 2015. Are you planning to attend the fair this year?
James Jackson Jolley
CLOVER- James Jackson Jolley, 86, of 1899 Hwy 55 West, was born August 23, 1929 and transcended Thursday October 1, 2015 peacefully at his residence.
Read More ...
View more Obituaries