Thornburg Receives Awards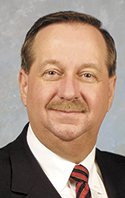 The State Board of Community Colleges announced recipients of the President of the Year, Excellence in Teaching, Staff of the Year and Distinguished Partners in Excellence Awards Friday, January 17.
"Through leadership, innovation and collaboration, these award recipients demonstrate a true commitment to student success," said State Board Chair, Dr. Linwood Powell. "Educating and training North Carolina's workforce is at the heart of the Community College System mission, and the honorees announced today are champions of that mission."
Dr. L. Steve Thornburg, President of Cleveland Community College (CCC) was named Wells Fargo President of the Year. The State Board of Community Colleges established the President of the Year Award in 2001, with financial support from Wells Fargo, and rewards outstanding leadership and commitment to the community college mission among the presidents of the 58 institutions of the N.C. Community College System. During his tenure at CCC, Dr. Thornburg has championed several economic development endeavors, bringing new jobs to the area, with training provided by the college. Dr. Thornburg has lead significant technology enhancements across the campus community, with CCC being among the first colleges to implement a smart phone application to inform students, faculty and staff of news and events on campus. Most recently, under Dr. Thornburg's leadership CCC, leading a consortium of community colleges and universities was awarded more than $23 million as part of the U.S. Department of Labor's Trade Adjustment Assistance Community College and Career Training grant program.

Printer-friendly format
---
---