Thrift takes 7th at Professional Bass Fishing's Forrest Wood Cup presented by Walmart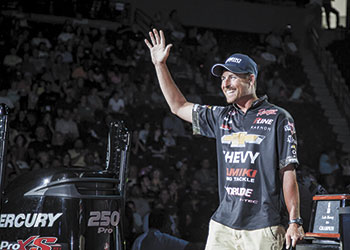 COLUMBIA, S.C. (Aug. 19, 2014) – Chevy pro Bryan Thrift of Shelby, N.C., brought three bass to the scale Sunday weighing 5 pounds, 8 ounces to finish seventh at the Forrest Wood Cup at Lake Murray presented by Walmart. With a four-day total of 18 bass weighing 44 pounds, 6 ounces, Thrift lost by 6 pounds, 12 ounces to local favorite Chevy pro Anthony Gagliardi of Prosperity, S.C., who weighed in 19 bass totaling 51 pounds, 2 ounces to claim the title.
Gagliardi won professional bass fishing's biggest prize – a $500,000 payday, while Thrift earned $26,000 for his seventh-place finish in bass fishing's world championship that featured 45 of the best professional anglers from across the country casting for the sport's largest payouts.
"I've had a lot of fun this week," said Thrift, who has now finished in the top-10 in six of the eight Forrest Wood Cups that he has qualified for. "I had one pocket where I caught probably 75 percent of my fish. The bite stayed good until about 10:30 or 11 a.m. each day, but after that I couldn't really get any good bites. My hat's off to Anthony."
A complete list of results can be found at FLWOutdoors.com.
Coverage of the Forrest Wood Cup will be broadcast in high-definition (HD) on NBC when "FLW" airs Oct. 5 from 2-3 p.m. ET. The Emmy-nominated "FLW" television show is hosted by Jason Harper and is broadcast to more than 564 million households worldwide, making it the most widely distributed weekly outdoors-sports television show in the world.
For complete details and updated information visit FLWOutdoors.com. For regular updates, photos, tournament news and more, follow us on Facebook at Facebook.com/FLWFishing and on Twitter at Twitter.com/FLWFishing.


Printer-friendly format
---
---