Earl Scruggs Center Upcoming Events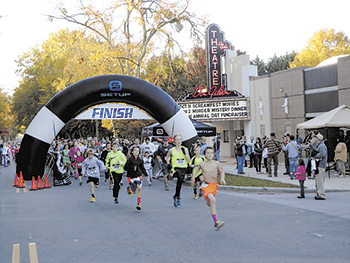 5th Annual Rhythm & Roots Run to be held on Saturday, November 1, 2014 from 8:30am – 10:30am. Registration is now open.

Join the Earl Scruggs Center on Sunday, October 26, 2014 from 2pm – 3pm. Free Program: Registration Recommended. Tommy Forney presents a program on local guitar luthier Ray Ledford. Mr. Ledford from Lawndale is featured in our Luthier's Craft Exhibit now through January 3, 2015. Learn about his love of classical music and many folks associated with him who were able to make a career of music. Explore Ray's background including his machinist father who made Ray's violin. Music was Ray's life and we will look at how he came to love classical music and some of his favorite musicians, luthiers, and composers.
Meet Luthier: Wayne Henderson on Saturday, November 8, 2014, from 3:00pm – 4:00pm. FREE with admission to the Earl Scruggs Center: Registration Recommended.
Wayne Henderson, known for his luthier skills will be at the Earl Scruggs Center to talk about his craft of guitar making. Make time to see one of Wayne's guitars on display in the Center's special exhibit "The Luthier's Craft: Instrument Making Traditions of the Blue Ridge and Piedmont".
Wayne Henderson's top-notch finger-picking is a source of great pleasure and pride to his friends, family and neighbors in Grayson County, Virginia. His guitar playing has also been enjoyed at Carnegie Hall, in three national tours of Masters of the Steel-String Guitar, and in seven nations in Asia.
In addition, do not miss our 5th Annual Rhythm & Roots Run – Registration is now open. Come out on Saturday, November 1, 2014 from 8:30am – 10:30am.
Fee for Runners: Registration Recommended. 5K Walk/Run and 10K Run with live music at the start and finish and along the routes. Bluegrass band and banjo players pay tribute to Earl – by playing Foggy Mountain Breakdown to kick-off the run. BANJO PLAYERS INVITED – Free admission to Scruggs Center for those that Participate.
Win $250 for Your School.Students in elementary through high school are encouraged to come out and bring their friends. The school with the highest number of students participating in this event will be awarded a trophy and a $250 gift to their school's PTO to be used as determined by the PTO.
The Center is free to Cleveland County residents with valid ID on Wednesdays. Regular hours of operation are Wednesday 10 am-6 pm, Thursday – Saturday 10 am – 4 pm and Sunday 1 pm – 5 pm. Learn more about the Earl Scruggs Center: Music & Stories from the American South and upcoming events and programs by calling 704-487-6233 or visiting www.earlscruggscenter.org.
The Earl Scruggs Center is a project of Destination Cleveland County, Inc., a non-profit 501©3 whose mission is to unite our county's history, heritage, culture and arts to create a vibrant economy while embracing the future and preserving the past.