'Super Spectacular' set at Senior Center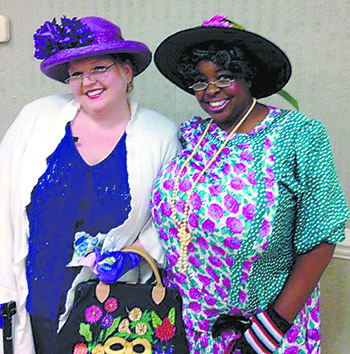 Neal Center employees Laura Sturgis and Linda Geter perform a skit at last years event.
May is "Older Americans Month," and the Neal Senior Center in Shelby has a "Super Spectacular" event planned to celebrate on Friday, May 5, 2017.
The day will begin at 10 a.m. with an open house and information fair.
"We will have all kinds of vendors there - artisans showing their work, handcrafted items and leisure travel displays," says organizer and Neal Senior Center administrative secretary Mary Hamrick.
The Seniors' Health Insurance Information Program (SHIIP) will present two seminars at the celebration, including "What's In Your Red Bag," at 11 a.m.
"This seminar will address the topics of keeping your medications up-to-date and maintaining a list of all medications that you are taking," says Hamrick. "The seminar will also provide attendees with local pharmacy information."
The second SHIIP seminar at 1:30 p.m. is titled "Medicare 101," and will provide a comprehensive overview of the Medicare program.
Lunch will be available for purchase from 11 a.m - 1 p.m. The cost is $6 for those age 55 and older and $6.50 for all others.
"The really exciting thing we've got going on at the 'Super Spectacular' celebration is our reverse drawing," says Hamrick. "Tickets cost $100 each, and the last number drawn at the end of the day will win $15,000!"
Other raffle prizes will also be awarded, and the drawing for prizes will begin at 6 p.m.
A hot dog supper will begin at 5 p.m., and all raffle participants will be eligible to eat for free. The hot dog supper is $5 for those not participating in the raffle.
All proceeds of the "Super Spectacular" event will go to into the operating expenses of the senior center.
For more information about the "Super Spectacular" celebration, visit the Neal Center's web site at nealseniorcenter.org, search for "Council on Aging of Cleveland County" on Facebook, or call Mary Hamrick at 704-481-7385.
By April Hoyle Shauf
Special to Shelby Shopper & Info