"Five-String Fest" this weekend!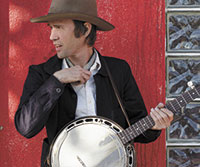 Soon after the official announcement made by The Steep Canyon Rangers at the Clear Mountain View Music Festival in August, Elliott Family Farm and the Five String Fest was well on its way to creating, what has now become the largest banjo gathering ever assembled. Just after announcement, calls were coming into FSF operations manager John Lockaby about getting involved with the event.
Lockaby is reeling in major sponsorships from the country's leading banjo manufacturers, such as Nechville Musical Products, Deering Banjo and others. There's also major media sponsorships from syndicated radio show Knee-Deep in Bluegrass that airs across the country and locally on WNCW 88.7.
Not only were sponsors on the hook with Lockaby, but also the Smoky Mountain Banjo Academy, run by Jack Hatfield. SMBA, now in its 9th year, has grown to be one of the largest and best workshop academies in the world. After little conversation between Lockaby and Hatfield, there was a merger of the two for the May 1st – 4th event.
The lineup features: JD Crowe – One of the most Influential banjoist of our generation; Tony Furtado – Award winning banjoist that has fused many genres together; The Boxcars – Grammy nominated band with exceptional banjoist Ron Stewart; The Steel Drivers – Grammy nominated and working and playing out of Nashville TN; Dan Levenson – Old Time Award winning Banjoist; Charlie Cushman and Johnny Warren – Legendary Nashville Banjoists; Cathy Fink & Marcy Marxer – Two time Grammy winners of Old Time Folk Music; The Travelin McCourys – Ronnie and Rob McCoury carry on the McCoury name; Ryan Cavanaugh - Has won multiple competitions and plays different genres with the banjo; Mountain Heart – Award winning band with a unique style; Willow Osborne with Co.l Isaac Moore – Country Tonite Star and a new duet in the making; Tony Trischka Band – One of the most innovative banjo players of our time; Willie Watson – Formerly of Old Crowe Medicine Show; Songs of the Fall – Stetson Adkisson and Cia Cherryholmes; Terry Baucom & The Dukes of Drive – Banjo leader with award winning album; The Grascals – With four time IBMA Award winning banjoist- Kristen Scott Benson; Reno & Harrell – Mitch Harrell, Don Wayne and Dale Reno, carry on the legacy. As well as: Hammertowne, Shannon Slaughter & County Clare, John Bowman, James McKinney, The Rigneys, Chris Jones &; The Night Drivers, Big Daddy Love, Moore Brothers, Freight Hoppers, Phillip Steinmetz & His Sunny Tennesseans, Jack Hatfield & Friends, Night Travelers, and more!
Expect many surprises and collaborations, but the highlight of the weekend will be the Banjo Finale with JD Crowe, Kristen Scott Benson, Ron Stewart, Terry Baucom, and Charlie Cushman as they lead a banjo jam and dedication.
You don't want to miss the dozens of vendors in the banjo tent, the Kids banjoland hosted by Cathy Fink and Marcy Marxer, Teen Club hosted by IBMA Youth Council Chairperson, Andrew Rigney, VIP After Hours Party hosted by Shannon Slaughter and Friends, Smoky Mountain Banjo Academy, The Eastern USA Banjo Championship with categories: Old Time, Bluegrass Band w/Banjo, Bluegrass Banjo, Banjo Seminars and Demonstrations There will be two stages of entertainment with over 40 bands, Banjo, bingo and other giveaways will go on all through the weekend.
For information and tickets go to www.fivestringfest.com or call 864-561-2717. Elliott Family Farm is located at 356 London Rd., just outside of Polkville, NC.

Printer-friendly format
---
---
Digital Edition
Advertisements