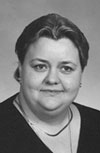 Mrs. Judy Diane Winters Ball, 55, of Margrace Road, Kings Mountain, NC, passed away Friday, May 14, 2010. A Memorial Service was held at Cecil M. Burton Funeral Home Chapel.
Mrs. Ball was preceded in death by her grandparents, Lillie Mae and Jesse Fox, and Albert and Dolly Winters; and 1 nephew.
She is survived by her husband, Kelly J. Ball of the home; her parents, J.C. and Jewel York Winters of Shelby; 2 step-children, Kelly Shane Ball and wife Jessica; and Heather Lynn Ball all of Kings Mountain; 1 step-grandchild; 1 brother, James Clayton Winters, Sr. and wife Barbara of Dalton, GA; 2 sisters, Faye Drewery and husband Roger and Brenda Wheat, all of Shelby; special friends, Kim Handline and Chris Mote; and numerous nephews and nieces.
Cecil M. Burton Funeral Home & Crematory, Shelby, NC is serving the family.