Caribbean Christian Club...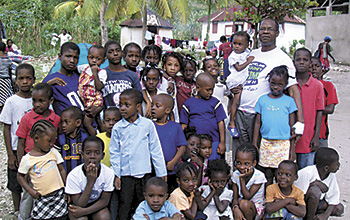 A Mission Committed To Help Haiti
The January 12, 2010 Haiti earthquake was catastrophic and over two years later the rubble and destruction can still be seen as the island struggles to recapture itself. A native of the island country, Rev. Marc A. Brice came to America seeking help for his homeland. He founded Caribbean Christian Club in 1997 with the slogan, "Helping Others to Help Themselves." The prime purpose is to assist needy children and others of the island of Haiti in education, food, clothing, health care and to meet emergency needs.
The 2010 earthquake compounded the problems facing Haiti. It intensified the needs and the Caribbean Christian Club responded. Rev. Brice and his wife, Eveline, have devoted their lives to helping others in need in Haiti. Today, CCC and Rev. Brice oversee fourteen churches, two schools, a clinic and pharmacy and a campground where he hosts training sessions for leaders.
Haiti has always had more than its share of poverty-stricken peoples. The Caribbean Christian Club seeks sponsors for the school children, teachers, nurses and pastors. You, yes you, can help.
Presently, CCC is seeking the donation of musical instruments to help form an orchestra at the Little River, Artibonite Church. When the Port Au Prince Church Orchestra traveled to and played at their church, it so impressed the members they decided they would also like to have an orchestra. You can help make their musical dream come true. If you have an instrument or sound equipment that you would like to donate, please contact Vickie Black at 704-418-0418.
During the Christmas season from December 8th through December 24th, volunteers at the Cleveland Mall will provide Christmas gift wrapping, with all proceeds being used to build classrooms for the school at the Artibonite Church in Haiti.
The good work that Caribbean Christian Club does in and for Haiti continues and your help is appreciated. To make a donation, the mailing address is Caribbean Christian Club, P.O Box 1933, Kings Mountain, NC 28086. You may also call Vickie Black at 704-418-0418 or the Brices at 704-739-4848. CCC has a web site at www.caribbeanchristianclub.org.

Printer-friendly format
---
---