Country Music Hall of Famer Don Gibson to be remembered in sculpture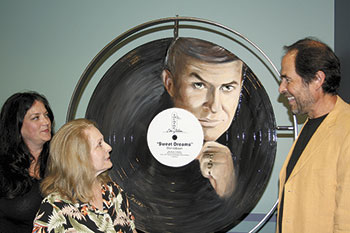 Record album sculptures by local and national artists to be displayed throughout downtown Shelby, NC
Don Gibson's wife, Bobbi, came from Nashville for the unveiling of Shelby's first street art project, which will showcase sculptures of her husband's song career. The sculptures were presented for the first time at the Marquee Club meeting on Saturday, July 19th at the Don Gibson Theatre.
The Don Gibson American Music Foundation was excited to announce the unveiling of these unique sculptures that will be placed throughout uptown Shelby, where Gibson was born and lived most of his life. Eleven artists, including one high-school student, were selected from a pool of applicants to create the original artwork on 3-foot fiberglass replicas of LP (long-playing) records. Each album sculpture features one of country music artist Don Gibson's hit songs along with an audio component allowing visitors to hear a sampling of Gibson's music while viewing the themed artwork.
The art will be displayed throughout the summer and early fall on the city streets. At the close of the exhibit, an auction for the artwork will be held at the Don Gibson Theatre, located at 318 S. Washington St. The auction is scheduled to take place in November and will be open to the public. All proceeds will be donated to the Arts in Education program of the Cleveland County Public Schools in Cleveland County, as well as the Don Gibson Theatre in Shelby.
Don Gibson was one of the most influential forces in the country music industry in the 1950's, 60's and 70's. In addition, many of his songs are instantly recognizable by fans and musicians outside of country music and around the globe. Two of Gibson's compositions, "Sweet Dreams," which became one of Patsy Cline's most indelible hits, and the Ray Charles classic single "I Can't Stop Loving You" will forever be etched in musical history. Since his death in 2003, Gibson's legacy of exceptional work continues to touch the hearts of millions.
For updates about the Shelby town celebration honoring Gibson and the locations of the musical sculptures, please visit: http://DonGibsonTheatre.com.
As a tribute to legendary singer-songwriter Don Gibson, the streets of Shelby, NC will be lined with life-size sculptures of the singles and accompanying sounds that made Gibson famous. Just as the streets of Nashville are filled with guitars from the music industry's heroes, the city of Shelby will honor the late Country Music Hall of Fame member through an artistic history of his work.

Printer-friendly format
---
---