Dare Officer Brooks Makes A Difference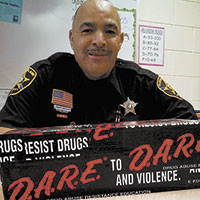 Teaching today's kids how to make good decisions and avoid the pitfalls of illicit drug use is no easy job. Cleveland County Sheriff's Deputy James Brooks admits that it takes a special officer to run a D.A.R.E. program and for Cleveland County fifth graders in the Burns and Crest districts, as well as those that attend Pinnacle Classical Academy, he is that special officer. Out of Deputy Brooks' almost 22 years in law enforcement, he has spent 11 as Cleveland County School's D.A.R.E. Officer. Brooks says that patience is definitely a virtue when dealing with 10-11 year olds, and especially with the subjects that D.A.R.E. covers, which of course includes drug and alcohol awareness but also covers subjects like bullying and helps to develop a relationship between youth and law enforcement.
Sergeant Steve McKee says that Deputy Brooks does a great job at being a role model for students. Not only does he help them during class, Officer Brooks has taken time off, after work hours and even on weekends, shown his students and their families' how much he truly cares about the kids. He has used his personal truck to help families move, getting needed furniture to their homes and assisting families in any way needed. Officer Brooks says that the program benefits him by giving him the opportunity to make an impact - he can help influence the students to make positive decisions in school and in their lives.In every class Brooks places a "Question Box" that all of the students are allowed to deposit questions that they have written into. The questions can be about anything, including personal matters. Some of the questions are read in class and discussed, while others are dealt with in private. Deputy Brooks says that it is a privilege that the children trust him, take his advice, and that he gets to make an impact in their lives and help them to improve their futures. The biggest thing that Deputy Brooks hopes to instill in the kids is the mantra of "If they work hard at it, they can be whatever they want to be in their lives".
Deputy Brooks takes his job seriously, putting in the many hours of training that is necessary to maintain his position as a Deputy Sheriff. He is also certified as a School Resource Officer as well as D.A.R.E. Officer. He also attends conferences and spends time talking with officers from all over the United States in order to get ideas on how to improve our local program. These requirements add up to hundreds, if not thousands of hours of training that Brooks has completed as a requirement of his career. It is all worth it in the end to him, in order to maintain his relationship with the kids throughout the years and to see that he did have some type of impact even years later.
Most people would agree with Brooks' description of himself as a christian, family man. The Brooks family attends Mt. Calvary Church. When he is not on duty or planning events like the DARE graduation and dances, James loves to spend time with his wife Donna, kids James II, Tempesst, Taylor, Robert and Alyssa. James loves to jog and ride bikes with the kids, and the family enjoys travelling together and visiting extended family members. The Brooks family resides in Shelby with their three dogs.


Printer-friendly format
---
---