Greenway to teach Basic Drawing Techniques at CC Arts Council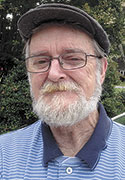 Classes held on July 29th, August 5th, and
August 19th from 6:00pm and 8:00 pm
Whether you are looking to refine your current skills, learn new skills, or simply brush up and knock off the rust, this is the class for you!
Techniques covered include proper use of dry media. Elements and techniques will include shading, line art, contour drawing, gesture, and perspective. We will take a serious look at the importance of a good layout (a straight edge for 1, 2, 3, point perspective.)
Greenway is a native of Shelby. He received a Bachelor of Fine Arts Degree from East Carolina University and a Masters degree from the Otis Art Institute of Los Angeles County. His degree emphasis is painting with minors in design and sculpture.
Greenway's fine art is in the private collection of Monty Factor of Max Factor Corp. and in the office of the Attorney General of California. He also has art displayed in the Wilshire Gallery of Los Angeles, California. His works are in the permanent collection of the North Carolina Museum of Art in Raleigh.
"I love what Shelby, the Cleveland County Arts Council, and others are doing to promote the arts. This class is my way of giving back what I have learned where I started," says Greenway.
To register call the Arts Council at 704-484-2787 or visit http://www.ccartscouncil.org.

Printer-friendly format
---
---