Keep Shelby Beautiful presents Awards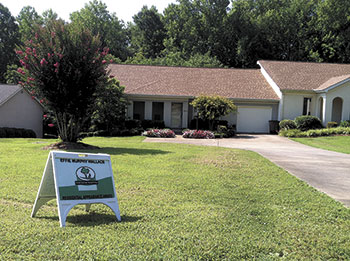 The July, 2014 Effie Murphy Wallace Appearance Award recipients are 1138 Bridges Street and 319 – 1 Lamar Avenue. These two residential properties received this prestigious award because the owners have gone above and beyond regular maintenance requirements. The built structures look brand new and the landscapes are colorful and well groomed. Two commercial properties were also selected to receive an Appearance Award for July. Those businesses were Red Wok Express on Grover Street and Lily Bean Coffee on Warren Street. Both businesses have dedicated time and resources to improving the appearance of their place of business. The visual impact of the improvements is beneficial to the community members and to the environment. All properties were eligible for the award because they met the following criteria:
1. The properties enhance the appearance of their surrounding area.
2. The properties contain building, landscape and appearance improvements.
3. The properties consistently maintain a high quality landscape that contributes to the City's image.
All properties that were nominated were unanimously accepted to receive the appearance award by the KSB Appearance Committee. The beauty and attention to detail of these properties surpasses the guidelines for receiving this exclusive appearance award. Keep Shelby Beautiful is very grateful to all the property owners for their hard work and dedication to help keep Shelby beautiful.
Keep Shelby Beautiful encourages anyone with a nomination for a commercial or residential appearance award to send them to the Keep Shelby Beautiful Coordinator, Jordan Tubbs, at PO Box 207, Shelby, NC 28151 or email to jordan.tubbs@cityofshelby.com or call 704-484-6829.

Printer-friendly format
---
---