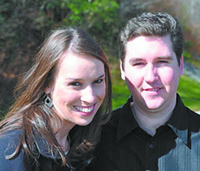 Brooke & Darin Aldridge
Free concert will feature Darin and Brooke Aldridge
Darin and Brooke Aldridge will play a free concert on Saturday, on October 8, 2016 at 4:00 pm in the Kings Mountain National Military Park amphitheater.
Cherryville duo Darin & Brooke Aldridge reprised the iconic Johnny Cash / Rosanne Cash hit "Tennessee Flat Top Box" on their critically acclaimed "Snapshots" album. Bluegrass Unlimited Magazine proclaimed it the #1 Bluegrass Song in the nation for December 2015.
The duo has placed at the top of the charts on Americana/Roots, SiriusXM, Bluegrass and Gospel charts and have received multiple nominations from the International Bluegrass Music Association (IBMA) the Society for the Preservation of Bluegrass Music of America (SPGBMA) and Inspirational Country Music (ICM).
Darin and Brooke were among the artists honored to appear at the grand opening of the Earl Scruggs Center in Shelby, NC. The cultural center is dedicated to the legend that inspired generations of musicians and artists.
"Husband and wife duo Darin and Brooke Aldridge have carved out one of the fastest rising careers on the acoustic music scene today." ~Billboard Magazine.
Food and beverages will be available during the event. Candle light tours through the Kings Mountain National Military Park battlefield will be available afterward. To reserve a tour, contact the Kings Mountain National Military Park at (864) 936-7921.
Formal eating for 300 is available in the amphitheater, with lawn space available for 200 or more. Guests are encouraged to bring chairs and blankets and enjoy the music with family and friends. Seating is available on a first come / first served basis.
This concert is sponsored by The Battle of Kings Mountain Brigade of Friends, a non-profit group offering concerts and other special events supporting the National Park Service in their effort to reach out to a new generation of Americans and encourage them to visit the park. If you are interested in joining the Brigade of Friends, call Loretta Cozart @ 704-241-2218.
Read More ...
Historic Morganton Festival is September 9th & 10th 2016
Join Morganton in celebrating 35 years of the Historic Morganton Festival sponsored by Carolinas HealthCare System Blue Ridge! The free festival features three national country acts, four stages, fun, games, and food for all ages, plus over a mile and a half of arts & craft vendors from all over the country!
This is your invitation to "come and play in the streets" of downtown Morganton during the 35th Annual Historic Morganton Festival presented by Carolinas HealthCare System Blue Ridge on September 9 & 10! Famous for its mile and a half of arts and crafts, the Historic Morganton Festival always offers free outdoor concerts, featuring a different national Country Music Star for the finale each night. Stay connected to www.morgantonfest.org for the latest news and information.
The weekend begins on Friday, September 9 at noon when the infamous Food Court tempts your taste buds with succulent aromas of gyros, BBQ, "chicken on a stick", French pastries, homemade ice cream and much, much more. At 3:00pm the streets come alive with fun and excitement!
The ever popular Food Lion Kids Zone and Teen Zone will open with ticketed rides and games along with the FREE craft area known as Litter Critters, for children, grades 5th and under.
Friday night, the music begins on the Coors Light Stage in the Beer Garden at 6:30pm with "Red Dirt Revelators" (Blues) followed by the wildly popular Throw Down Jones (rock).
City Stage will host National Country Music Artists, "Mo Pitney" and "Chase Bryant" starting at 8:00pm.
Start Saturday morning at 8:00 am with a 5k or 10k by participating in the Sunrise Run on the Greenway! The Student Fitness Challenge by Carolinas HealthCare System Blue Ridge and 1 mile Fun Run/Walk starts at 9:30am. Students should pre-register with their Physical Education teachers for the Student Fitness Challenge (elementary and middle school's only); adults can pre-register for the 5k, 10k or 1 mile Fun Run/Walk on-line at www.morgantonfest.org. The course has been certified and will be chip-timed!
After your run, head to the Festival where booths open at 9:00am with even more artists and crafters than on Friday. Throughout the day there are activities for the entire family.
Saturday evening, the streets will again heat up with live music at the Coors Light Stage hosting local favorites Sweet Revenge (classic rock) and The Roadrunnerz (rock).
City Stage features National Country Music Artist, Love & Theft!
All concerts are free.
Be a part of this memory making event and mark your calendars for a great weekend of fun, September 9 & 10 in downtown Morganton. The festival is an animal-free event and will go on rain or shine. For a complete listing of all the events including the Sunrise Run, music acts, shuttle bus routes, and more, call 828-438-5252; by email at info@morgantonfest.org; or check out the website www.morgantonfest.org.
Submitted by Abby Gentry
Read More ...
SongHarper 120814

MARK YOU CALENDAR FOR THE 1st DRUM CIRCLE OF 2015!

January 10th, 2015 will be the first day of our community drum circle, hosted by SongHarper Music. Arrive at the Cleveland County Art's Council as early as 12:00pm to get your seat and warm your fingers and toes. We will play till about 1:30pm. This event is FREE and open to the community! Bring your drums; bring your family and friends. NO EXPERIENCE NECESSARY! From 12:00-12:30 I will host a free introductory lesson on drum technique for anyone who is interested in tips or advice before the event gets started. If you've got extra drums, bring them so someone else can play. The whole point of the drum circle is to provide a fun, safe environment for all community members to make music, free of judgment or criticism. It is about pooling our talents and sharing our knowledge to create something greater than ourselves. This musical experience is geared toward all members of the community, but I want to extend a special invitation to the ASL, deaf, and hearing-impaired community members. Come FEEL THE RYHTHM. If you are interested in being a silent observer, please come on and enjoy the tranquility and healing power of a drum circle. If you are a dancer/hula hooper/Native American flute player/artist/vocalist/photographer/videographer/etc. then please come support this artistic union of minds and hearts.

Music has slowly been taken out of the hands of the public and THIS IS YOUR CHANCE TO GET IT BACK! Empower yourself with the gift of music creation and social unity. This is your first amendment right in action! Contact Justin for more information: Justin@songharper.com or call: 704-600-5138

Cleveland County Arts Council

111 S Washington St, Shelby, NC 28150

(704) 484-2787




Calling all students songwriters, musicians and singers! We are looking for submissions to be showcased in our Cleveland County Artists feature:

Read More ...
Harper justin@cfmedia.info
SongHarper 101314


Cleveland County Music Initiative

Some people in Cleveland County want to see music flourish. Are you one of those people? I want to know if you are interested. If you are, send me an email at Justin@songharper.com, also feel free to ask any questions you may want answered about the future of music in our community or just state your opinion.

I also want to know: Who is teaching violin lessons in the Cleveland County area? Also, who teaches cello, bass, and viola? If you have had an experience with a strings teacher, let me know whom you recommend. You can call and leave a short message if you need to: 704-600-5138.

I have been watching the area grow for years and it is exciting to see our county move into a direction that welcomes the arts. Are you ready to grow?

I know there are a few place to learn music. If you are interested in Rock/Blues/Pop, local musician Jonathan Sloan is really making a difference. Also, Shelby Music Center has a variety of teachers. Crystal McDaniel at McDaniel studio is a popular piano and voice (especially opera) teacher.

So what say you, Cleveland County? What do you know about who teaches music and what do you want to know? I am reaching out for YOUR opinion. Please share and I will let you know the community's voice.




Calling all students songwriters, musicians and singers! We are looking for submissions to be showcased in our Cleveland County Artists feature:

Read More ...
Harper justin@cfmedia.info
091014


Community MUSIC at Art of Sound

Hello friends! It is good to get back into the swing of school and work routines with a great music festival hosted by the Cleveland County Arts Council. There are some great FREE music events planned for the community, please note:

Friday, September 19: 7-10pm OPEN MIC NIGHT @ NEWT'S BURGERS

LILY BEAN MICRO ROASTERS features local singer/songwriter, Al Dunkleman

6-8pm DRAGONFLY WINE MARKET features local singer/songwriter, Hayne Coleman

6-9pm NI FEN BISTRO features local guitarist, Eddie Cook

10pm PLEASANT CITY features live band, Paris Thieves

Saturday, September 20: 10-2pm Cleveland County Schools Music bands and choirs

10-2pm Shelby High School band will be on the Shelby Star Stage

Once more, Art of Sound festival will feature a DRUM CIRCLE. Bring your drums and a spirit of community and fun to partake in a rhythm making experience for all ages! Don't have a drum? Get creative because anything can make sound, including buckets, boxes, and barrels. Please join us on the court square at 4:00pm on Saturday, Sept. 20th.

SMAC Football seasons starts soon! Do you want your music featured after the game?

We are also looking for local music artists to be featured in our weekly column! If you have a tip or know somebody, email

justin@songharper.com

or send a letter to:

Justin Harper-MUSIC COLUMN

Shelby Shopper and Info

503 N. Lafayette St,

Shelby NC 28150




Calling all students songwriters, musicians and singers! We are looking for submissions to be showcased in our Cleveland County Artists feature:

Read More ...
Harper justin@cfmedia.info
1st Annual Children's Keeper Festival


November 1st may seem like a long time away, but if you have a church group that is interested in performing, now is the time to plan. Mt. Sinai Baptist Church is planning to have a Fall Festival with live music. It will raise money to benefit homeless kids in Cleveland County. Mike McKinnish and his band, Sons of Sinai, are organizing the event and they are looking for your help. They found out there were close to 130 children in Cleveland County who have no place to call home. Mike's heart was heavy to this burden and this led him to the director of the Abuse Prevention Council. He learned that when the shelters close, grant money helps pay rent for the women with children who need housing. There is a shortage of grant money. Mike shares, "The objective is to bring all the churches in this area together to spread the word of Christ and helping these homeless kids in our area that we are liable for as human beings (and) especially as Christians." The bands included in this event are: Sons of Sinai, Tower of Mercy, Damascus Road, Mercy Heart, Blood Bought, and solo performances by Jeremy Naivey and Jonathan Laughter. They are asking RA, GA, and Youth groups to host booths, games and food to help raise money for this worthy cause. So far, music will begin at 12 noon. We are asking the community to help: Any church groups, bands, or individuals who feel called to participate can call Mike McKinnish at (704) 477-4622.



Calling all students songwriters, musicians and singers! We are looking for submissions to be showcased in our Cleveland County Artists feature:

Read More ...
Harper justin@cfmedia.info
Song Harper 052114 Let It Go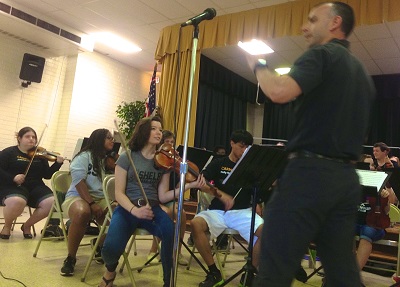 As children take their seats, the humming and droning sounds of string instruments tuning fills the air with excitement. There must be magic in their bows.

Jefferson Elementary students were entertained by a talented group of musicians under the direction of John Champney. The Shelby High School Orchestra brought their violins, violas, cellos, basses, as well as a drum set to inspire young children with the joys of music. Champney used the sections of the orchestra to explain the texture and sound of stringed instruments. The students also learned about the structure of music and how elements like rhythm, melody, and harmony can come together to create the full experience of orchestra. They played a medley of modern pop songs that included, "Let It Go," from Disney's Frozen, Bastille's "Pompeii," Avicii's "Wake Me Up" and the grand finale, "What Does the Fox Say?"

The Shelby High School Orchestra is phenomenal! The students who have dedicated their time to learning an instrument have done themselves a favor. Their careers as students have been amplified, and their lives have been enriched as a result of simply dedicating the time and attention to following a conductor. Knowing just the right place to put their fingers because of muscle memory, or just listening to the other members and tuning in to their interpretation of the music is a skill that will make well-rounded college graduates and future community leaders. Please, encourage your child to try a musical arts program when they get the chance in 6th grade or come out and support your local public school band, choir, or orchestra. Thank you Shelby High School Orchestra!




Calling all students songwriters, musicians and singers! We are looking for submissions to be showcased in our Cleveland County Artists feature:

Read More ...
Harper justin@cfmedia.info
Song Harper 043014
Do you want to hear live music?

Many of us don't really remember the days of front porch picking and family jam sessions. Earl Scruggs grew up around many musicians that shaped and molded him into the legacy we know today. His skill was not developed overnight; it took gentle molding from the influences of those around him. These days folks doesn't live next to the mill, walk to work, or spend the evening entertaining the family anymore. So how are we going to develop our musical community? It's simple: Open Mic Night! If you haven't had the opportunity to drive by Newt's in uptown Shelby on a Thursday night and see a smiling bunch of troubadours, make it a point to peek into our world one evening. Our front porch is the right there on the streets of Shelby. It is a blank canvas for musicians and an example of street artistry for the passive observer. A place where you can hear original songs for the first time, or hear familiar songs played with a spirit of unity and fellowship. I don't mean to get philosophical, but something great is happening and it keeps getting bigger and better. This kid friendly entertainment welcomes all ages; we have had performers from 3 to 82 years old. I want to invite you to come see the magic, please bring your favorite musician or singer with you and encourage them to showcase their talents. The schedule for Open Mic Night is every 2nd and 4th Thursday from 7-10pm. Come enjoy your very own community of 'front porch pickers.'



Calling all students songwriters, musicians and singers! We are looking for submissions to be showcased in our Cleveland County Artists feature:

Read More ...
Harper justin@cfmedia.info
Song Harper 041614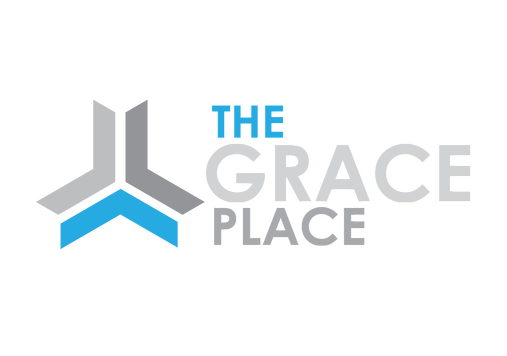 A call to musicians and singers!

Do you know someone who has been turned off by church? Maybe they had an experience that made them feel uncomfortable or have never stepped foot in a church for fear of judgment of their looks, piercings, tattoos, etc. If you or someone you know is in need of a unique church that is contemporary and centered on people experiencing God's Grace in their lives, The Grace Place might be the place. This is geared toward people who need love and acceptance, as their slogan says, "no fear tactics, guilt trips, 'to-do' steps, or religious rule-keeping…just love." Lead pastor, Chris Kratzer, is forming a launch team for this developing church. The launch team is a group of people interested in getting the vision into a building. Chris is looking for a team of 50 people with a goal of a launching The Grace Place in September.

A major part of this vision will involve a worship band. A worship band is the group of musicians and singers who will help lead the music. "If you are skilled at contemporary music and have a heart to see people experience the grace of God," then call him! Please, tell your friends and family who play music or sing and are not attending a church to call Chris at 980-295-0230 or email him:

ckratzer@ymail.com

if you feel like this vision fits someone you know. For more information on how to connect with their ministry visit

www.theGracePlaceChurch.com

.




Calling all students songwriters, musicians and singers! We are looking for submissions to be showcased in our Cleveland County Artists feature:

Read More ...
Harper justin@cfmedia.info
Song Harper 040314


This week, I found myself describing how children's voices should sound as 'angelic.' The children that sang in the Cleveland County Elementary Honors Chorus event were the perfect representation of those heavenly sounds. In case you didn't make it out to the concert last week, you can listen to it online! If you go to my website, www.SongHarper.com, click on the picture of the choir. There you will find a link to a FREE DOWNLOAD of the songs recorded from the night of the concert in both .mp3 and .mp4 format! Please share this with any young person interested in singing. Moreover, if you knew someone who sang in the concert, please share it with them or burn it to a CD and they can cherish it forever.

If you have a child who likes to sing and is too young for this opportunity, they can sing in public at an event that happens twice EVERY MONTH. Open Mic Night has been a great addition to the entertainment at Shelby's favorite burger joint, Newt's. On the 2nd and 4th Thursday's of each month, musicians and singers from all around flock to play or listen to live music. We have had people from all walks of life join us in making real music for real people, no CD's or iPods. So your 3 year old doesn't play guitar? It's ok, I have a plan. If you get up there and sing with them and hold the microphone to their mouth, they will have the confidence to get 'on stage' and the assurance of knowing that they are singing the right notes and words because Mommy (or Daddy) is right there. The musicians are happy to help and accompany on a verse of Twinkle, Twinkle Little Star or perhaps any song… It starts at 7pm, let's get Cleveland County singing!




Calling all students songwriters, musicians and singers! We are looking for submissions to be showcased in our Cleveland County Artists feature:

Read More ...
Harper justin@cfmedia.info
Song Harper 031914


Do you love to hear a choir sing? Do you love children? If the answer to either of these questions is, "Yes," then you do not want to miss your opportunity to hear the Cleveland County Elementary Honors Chorus on March 29

th

at Kings Mountain High School. The concert begins at 6:30 in the Barnes Auditorium and will be performed by the top singers representing 4

th

, 5

th

, and 6

th

grades from the Cleveland County School system. These children were selected by a recorded audition and have been practicing afterschool for months. Cleveland County Elementary and Intermediate Music Teachers will conduct this group of over 100 excited vocalists. Some selections include Pie Jesu (in Latin), a folk song called, "The Blue Tailed Fly," and an arrangement of the classic Spiritual, "Elijah and Joshua." The students will rehearse all day on March 28

th

, getting a full musical experience in the preparation and dedication it takes to get ready for a concert. Exhaustion, frustration, fun, and accomplishment are the feeling we all experience this day of rehearsal. Don't miss this once a year choral event because it is the capstone of children's singing in Cleveland County. I'll see you there!




Calling all students songwriters, musicians and singers! We are looking for submissions to be showcased in our Cleveland County Artists feature:

Read More ...
Harper justin@cfmedia.info
Song Harper 030514


Why does music make us feel good?

Have you ever been listening to 'your song' and realized that you are suddenly in a good mood? Sometimes it is two thirds of the way through the song, maybe somewhere before the last group of choruses. The song builds and builds and then it just hits you like a load of bricks. Your hand turns up the radio just a little louder, followed by the funny looks from the other drivers at the stoplight because you are singing out loud. Or maybe you get you 'feel goods' when you are thinking about the words to your favorite gospel songs. This feeling wells up inside of you and the Spirit moves you to sing. The chemical in your brain called dopamine controls the 'feel good' to which we are referring. It can cause your pulse to increase, a change in emotions, along with changes to your heart rate and breathing rate. It is in fact the same feeling you get when you are in 'love.' Music has been a part of our human experience for a very long time. In fact, some scientists speculate music has been a part of us for over 10,000 years. I like to experiment with my youngest elementary school students to help them realize how music is already a part of them. Thumbs up if it sounds good, thumbs down if it doesn't. I play one note (middle C) on the piano. Mostly thumbs up. I then play them two notes (middle C and E). Still thumbs up. After playing a few acceptable sounding harmonies, I play some very dissonant sounds like C and Db or a cluster of notes. Immediately, the kids recognize it a sound they do not like. The same concept can be found when listening to Beethoven's "Moonlight Sonata in Am" and they say, "It sounds sad!" Or I play the song "Happy" sung by Pharrell Williams and they all jump up and start dancing. Music is ingrained in your brain. Take advantage of your power to choose what you expose your ears to and how it can affect your life.




Calling all students songwriters, musicians and singers! We are looking for submissions to be showcased in our Cleveland County Artists feature:

Read More ...
Harper justin@cfmedia.info
Song Harper 022714


Do you sing anymore?

After reading a recent questionnaire asking, "Do you sing in the Shower?"

I was surprised to find out that many people do not sing because they are dissatisfied with their voices. What makes a good singing voice? What is the difference between the sound of Bruno Mars or Bob Dylan?!?

The first thing you need to know is that singing comes from the body. Your brain communicating to the muscles and propelling the notes in your head out into the world using air produces the sound of singing. In the past, I asked a singer, "What is the secret to good singing?" And he answered, "You HAVE to fall in love with the sound of your OWN voice." Sing songs that compliment your sound or the sound you are trying to achieve.

So how do I become a better singer?

First, find a song you like and start to sing it anywhere you feel comfortable. SING IN THE SHOWER! You can get a good sound in the shower because your voice is bouncing off so many different angles and back to your ear that you can actually hear yourself. Oh, you don't sound very good? That is normal! Now, you must sing consistently so that you can improve your sound and get in tune. That hardest part is being able to hear yourself. Next, sing in the microphone. This way you will hear yourself coming through an amplified source and have a better understanding of your voice. With a discerning ear, you will discover how you need to improve. Learn how to warm-up your voice. Learn how to sing in tune with others. And most of all, LEARN HOW TO LOVE YOU OWN VOICE.




Calling all students songwriters, musicians and singers! We are looking for submissions to be showcased in our Cleveland County Artists feature:

Read More ...
Harper justin@cfmedia.info
Song Harper 021914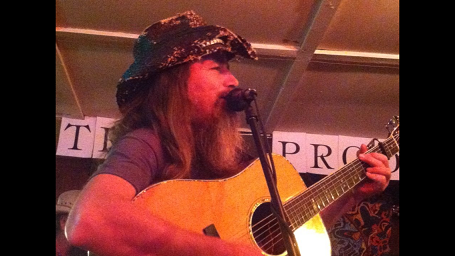 Baby Ariana watches both her father's hands intently. When he makes the soothing music on the guitar, she is content. If he stops, she cries. This 5 months old knows good music when she hears it. I asked Roger for some advice on musical careers and he said, "If you want a big house and a new car every 2 years, guitar playing is probably not your business." He has played professionally for almost 40 years. "I started young (about 4 or 5) and it was by the musicianship of my dad and uncles I learned how to play." After seeing Doc Watson at about 6 years old at the Snuffy Jenkins Bluegrass Festivial, he says, "That's when I knew what I was gonna do." And so he became a guitar player. Starting from his bluegrass roots as a youngster, he proceeded to his first band (a Loretta Lynn and Elvis Presley tribute band) at age 11. As young teenager who got his Black Sabbath album, things changed. This lead to a long career in rock and roll with bands like Triad and Cold Steel. The most success in rock an roll was with the band Medicine Man, featuring members Kelly Hull, Vernon Hensley, John Hatchel, who toured with the Bullet Boys and Blue Oyster Cult. Imagine a truckload of 12 electric guitar stacked amplifiers and usually 15 or so Flying V electric guitars every show!

"I was so happy to go back to bluegrass because all I had to carry was my Martin guitar." More notable bands that Roger has played for include Acoustic Syndicate, Tater, and Evergreen. Roger has opened up for acts like John Cowen, Railroad Earth, Sam Bush and Tony Rice!

On March 1st, there will be a benefit concert for Roger (who is suffering from cancer) at the opening of a newly remodeled Barley's Taproom Pizzeria. Roger will play some songs with people like Darin and Brook Aldridge, Jack Lawrence, Dale Meyer, and one SERCET BAND that you will have to show up to see! Roger is also selling his solo CD, "Just Me," recorded and produced by himself. The music has clear bluegrass roots and Roger's voice has sounds reminiscent of Lester Flat and Del McCoury. His smooth guitar licks clearly portray his many years of seasoning on the fretboard. To get a CD, contact him on Facebook, or email

roger.padgett@yahoo.com

Let's come together as a community and help our local musician with your prayers, purchasing a CD, or just letting him you care.




Calling all students songwriters, musicians and singers! We are looking for submissions to be showcased in our Cleveland County Artists feature:

Read More ...
Harper justin@cfmedia.info
Song Harper 020514
If you have an idea for an article please
submit it here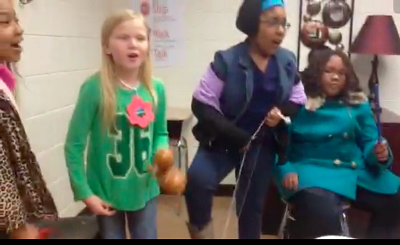 The James Love Drum Circle Ensemble called "Worldbeaters" is on its way to stardom! Last year, we asked for donations of 5 gallon buckets to use as 'found' or recycled instruments. Upon receiving them, we have allowed our kids to experiment with making different sounds. Even to the point of drilling hole in the bucket and turning them into an instrument reminiscent of washtub bass. The children created an arrangement of Eminem's top radio hit with their recycled instruments. After practicing a couple times, I told them, "Pick up your instruments, we are going to flash mob the principal!" In a flurry of sticks and buckets, we rushed down the halls to present to Mrs. Sharpe our talented drummers and singers. The previous lesson, we talked about how the '4 on the floor' rhythm (kick drum on each beat) is prominent in most of today's pop music. The arrangement featured the '4 on the floor' followed by a hip-hop rhythm, much like the breakdown in the Eminem song. The photo is of the group who inspired the idea to use the rhythms we learned with a song they hear on the radio. We would like to also thank the Cleveland County Arts Council for awarding the James Love "Worldbeaters" with the Artists in Schools Grant for $250 to purchase instruments!




Calling all students songwriters, musicians and singers! We are looking for submissions to be showcased in our Cleveland County Artists feature:

Read More ...
Harper justin@cfmedia.info
Song Harper 012214
If you have an idea for an article please
submit it here
Usually banjo players are the butt of many musician's jokes, right along side with drummers. But with the opening of the Earl Scruggs Center, who is laughing now? It seems like people want to get closer and closer to the twang and charm of the banjo. Many associate the banjo with a style of music called bluegrass, but this instrument shares ancient kinship that trace all the way to Africa. The Akonting is a lute-like instrument from West-Africa that resembles the banjo's composition: a gord or wooden body, covered in an animal skin topped with a bamboo neck. This instrument migrated to the Eastern United States and reclaimed a home in the Appalachian Mountains. It's form evolved into the banjo we recognize today. For a time in the 19
th
century, the banjo was one of the most popular instruments among the middle class. Imagine that in the 1800's, people wanted to know how to play the banjo more than the guitar or piano! Earl Scruggs took the banjo to the next level when he joined Bill Monroe in the middle of the 20
th
century. Earl innovated the 3-finger picking patterns of the banjo with fingerpicks that created a style of music we know today as bluegrass.
If you want to see some amazing musicians pay tribute to Earl Scruggs check out the video online: Suddenly Scruggs on the Earl Scruggs Center YouTube page.







Calling all students songwriters, musicians and singers! We are looking for submissions to be showcased in our Cleveland County Artists feature:

Read More ...
Harper justin@cfmedia.info
Song Harper 011514
Everybody's favorite Uptown burger joint, Newt's, is featuring live music! With this weekend's extravagant welcoming of the Earl Scruggs Center, Shelby will now host a consistent dose of music from the corner of Washington Street and Warren Street. Now, on the 2nd and 4th Thursday, every month there will be an opportunity for musicians to gather and perform for the public at Open Mic Night from 7-10pm. If you are interested in participating, contact call Justin at 704-600-5138 to reserve a timeslot or come to Newt's to signup between 6pm and 7pm on Open Mic Night. Be sure to come visit us next Thursday, January 23rd, because it will be the long awaited Kid Needz CD Release Party!

Just what is "Open Mic Night"?

Open Mic Night is a venue where all levels of musicians can participate in a live performance. No matter how young or old, "Open Mic Night" is an opportunity for musicians and vocalists to showcase songs and talents in front of a crowd. Not to be confused with "Karaoke," where the words and music are provided to the participant, "Open Mic Night" is for people who play an instrument or who can sing the words without the help of a TV screen. Even though it may seem complicated to play your own accompaniment, usually "Open Mic Night" musicians are glad to 'sit in' and help out newcomers.



Calling all students songwriters, musicians and singers! We are looking for submissions to be showcased in our Cleveland County Artists feature:

Read More ...
Harper justin@cfmedia.info
Printer-friendly format
---
---
Digital Edition
Advertisements