Pageant Announces Elizabeth Williams-Grayson As Emcee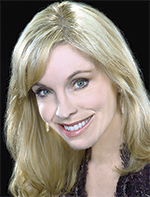 After an absence of more than 15 years, Miss America organization proudly welcomes the Miss Shelby pageant back to Shelby, North Carolina. In addition, Shelby will also crown a Miss Shelby Outstanding Teen.
The Miss Shelby/Miss Shelby Outstanding Teen pageant will be held on February 22, 2014 at Shelby Middle School in Shelby, NC. Both titles offer scholarship money on the local, state and national levels. Winners will go on to compete in the Miss North Carolina or Miss North Carolina Outstanding Teen pageant, and that winner will make it to the Miss America Stage in Las Vegas, Nevada in 2014.
Rich in history and social significance, the Miss America Organization is a not-for-profit organization that has maintained a tradition for many decades of empowering American women to achieve their personal and professional goals, while providing a forum in which to express their opinions, talent and intelligence.
As an official state preliminary associated with the Miss America Organization, The Miss North Carolina Scholarship Pageant is a part of the largest scholarship providing organization to women in the world.
Today's Miss North Carolina Organization is a federally recognized 501(c)3 non profit organization dedicated to empowering young women to achieve their personal, professional, and educational goals.
• The Miss North Carolina Organization provides young women an opportunity to further their personal and professional goals and instill a spirit of community services through a variety of unique statewide community based programs.
• The dedicated young women who compete for the coveted Miss America title donate more than 500,000 hours each year to make Miss America one of the largest community services organizations in the country.
•Previous Miss North Carolina titleholders have gone on to accomplish great things in all aspects of their lives from business to family to community, embodying everything the Miss America Organization represents.
• After Miss North Carolina is selected, she embarks on a year-long state-wide speaking tour.
• Each year, tens of thousands of Miss America volunteers give numerous hours of service to more than 12,000 community-service projects.
Contestants for Miss Shelby must be 18-24 years old, live or attend school in Cleveland, Rutherford, Mecklenburg, Catawba or Burke counties, and have never been married or had a child. Miss Shelby Outstanding Teen contestants must be 14-17 years old and live in North Carolina. There are no county requirements for these contestants. Interested contestants please contact Executive Director Danyel Phelps at danyelwp@hotmail.com.
The Executive Committe of the Miss Shelby/Miss Shelby Outstanding Teen Scholarship pageant is thrilled to have secured Elizabeth Williams-Grayson as guest emcee at their February 22, 2014 pageant at Shelby Middle School.
Elizabeth Williams-Grayson has graced the stage nationally and internationally in Opera, Pops/Classical concerts, Broadway and TV. She is a former Miss North Carolina and winner of both swimsuit and talent scholarships while competing for Miss America.
An extremely versatile singing actress, Elizabeth has been praised and described by many reviewers as having a "liquid, pure-toned soprano," "able to create wondrous, high-floating notes." Her acting has moved audiences from "moments of amusing hilarity" to "bringing many audience members visibly to tears."
Elizabeth made her International debut as Grace Kelly in Michael Daugherty's American opera "Jackie O" at the Teatro Communale di Bologna and Teatro Rossini di Lugo, Italy. She also recently made her debut with Opera Carolina in "Love Notes" concert gala as soprano soloist and as Musetta in their successful production of "La Boheme."
On the concert stage, Elizabeth has performed as soprano soloist in the Eastern Music Festival in Greensboro, NC, Milwaukee "Music Under the Stars" Pops Symphony in Washington Park singing both operatic and Broadway show tunes. She has performed as soprano soloist with the NC Symphony singing Vaughn-Williams' "Dona Nobis Pacem" and Haydn's "Mass In Time of War." Other concerts include a "Holiday Pops" concert and Mendelssohn's "A Midsummer Night's Dream" with the Asheville Symphony, Handel's "Messiah" with Greensboro Oratorio Society and Symphony, "Holiday Pops" with the Fayetteville Symphony and Durham Symphony.
Just recently, Elizabeth filmed her first leading role in an Independent Film "The Third Act" as the role of Katie Gordon, a famous Broadway singer/actress. Elizabeth also has an active career in commercials and print work.
Additional information regarding the pageant can be found at www.missshelby.org, or from Executive Director Danyel Phelps at (704) 477-4156.

Printer-friendly format
---
---
Digital Edition
Advertisements