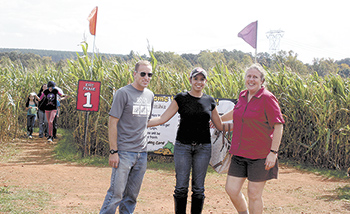 Scott, Noel and Mary Ann get ready to take the challenge of finding their way through this year's corn maze.

Shelby Corn Maze marks 13th year!
The Shelby Corn Maze and Pumpkin Patch is celebrating 13 years in a big way. Read More ...

Steve and Ilene Sanders have lucky ticket
Hundreds of donors to the Kings Mountain Historical Museum came together Saturday, Sept. 13, to dine on good food, bid on a number of valuable items in both silent and traditional auctions, and of course to find out which lucky ticket-holder was the winner of the $10,000 grand prize. Read More ...