Shane Proctor Returns to Rodeo Polkville 2014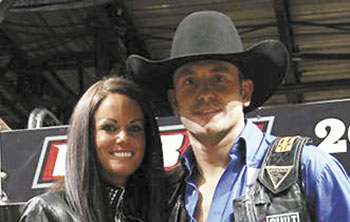 PBR Bull Rider "Shane Proctor" and his wife Jessi will compete at Rodeo Polkville on Saturday night, June 21, 2014. Shane is entered in Calf Roping and Bull Riding and Jessi is entered in Barrel Racing. Shane will also be offering pre-rodeo autographs at the Polkville Baptist Church tent from 6:30 to 7:30 PM.
Rodeo Polkville is excited to have Shane and Jessi back again. Jessi is a regular competitor at Rodeo Polkville and Shane is returning as well. Last year Shane and his brother-in-law J.B. Mauney, 2013 PBR World Champion" both rode at Rodeo Polkville and tied for first place. We are looking forward to seeing how Shane will do this year.
Shane is a highly decorated cowboy. He is one of only a few cowboys that compete in both the PBR (Pro Bull Riders) and the PRCA (Professional Rodeo Cowboys Association). He is a six time PBR Finals qualifier and last year he climbed as high as second place in the PBR. He is a three time PRCA NFR (National Finals Rodeo) qualifier and is the 2011 PRCA World Champion Bull Rider. Shane is also the 2008 World Toughest Cowboy. When Shane shows up you know you are in for a great show and we look forward to Shane competing at Rodeo Polkville in Calf Roping and Bull Riding on Saturday night.

Rodeo Polkville will be held this weekend, June 20-21, 2014 at Polkville Baptist Church in Polkville, NC. Festivities start at 6pm. Rodeo begins at 8pm. For information visit www.rodeopolkville.com or call the Church office at 704-538-7464.


Printer-friendly format
---
---