Shelby Leaders To Be Inducted Into N.C. American Legion Baseball Hall of Fame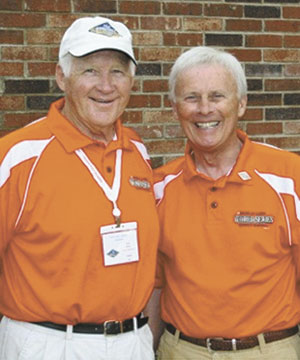 Two leaders of the campaign to have Shelby and Cleveland County become the official home of The American Legion World Series will be inducted into the North Carolina American Legion Baseball Hall of Fame. On March 9th, during a ceremony in Newton, N.C. Edwin C. "Eddie" Holbrook and William James "Jim" Horn, co-chairmen of the Executive Committee of the American Legion World Series, will be among the inductees when the N.C. Department of the American Legion holds its 46th Baseball Hall of Fame Banquet.
"I'm so proud of this induction choice," said N.C. Division Baseball Commissioner Roy Waters. "Nobody is more deserving to be in the Hall of Fame than Eddie and Jim. They're brought North Carolina to the top. There are not enough accolades to tell you what I think of these two men. They have done such a fantastic job bringing the World Series to North Carolina and making it a great success."
Jim Quinlan, American Legion Baseball Program Coordinator, will be the featured speaker at the Hall of Fame Banquet. He has worked with Holbrook and Horn through all of their ALWS involvement. "Eddie and Jim are a great team and complement each other perfectly," Quinlan said. "They are humble and hard-working and never ask for any special favors. Both are always 'in it' for the right reasons – for their community and for the good of American Legion Baseball.
"These men have been outstanding leaders long before any involvement with American Legion Baseball, but The American Legion has been the beneficiary of their leadership for over a decade. What makes them very deserving of this honor is their vision and their conviction to make The American Legion World Series a pinnacle event for every player, every coach, every parent at the end of a long season."
Shelby Mayor Stan Anthony responded to the news with these words: "Those of us here in Shelby and Cleveland County are acutely aware of Eddie's and Jim's outstanding leadership and consistent commitment to The American Legion World Series. Working quietly and tirelessly, Eddie and Jim never promote their work or expect the spotlight to be on themselves. They are true humble servants to our community.
"Shelby is honored to be the official home of the Series and greatly appreciates all the tournament brings to our city. We congratulate Eddie and Jim on their induction and say once again, 'Job well done!'"
Other 2012 inductees will be Terry Boyles, athletic officer for Post 43 in Kinston; Ron Powell, head coach of Post 67 in Cary; and the late James Starkey of Post 203 in Newport. Before his death in 2011, Starkey was athletic officer of Post 203 and led the organization of the Junior American Legion Baseball program with the post. Also honored at the banquet will be Area IV Player of the Year Dylan Hastings, a pitcher for Cherryville's Post 100 team.
Holbrook is a Cleveland County commissioner and senior dean of development and governmental relations for Cleveland Community College. Horn is retired after a career which included serving as a teacher and coach, a U.S. probation officer and a member of the N.C. House of Representatives.
Both men have long records of community involvement and the promotion of sports, including coaching positions. Both have been instrumental in bringing American Legion Baseball events to Cleveland County, including the Southeastern Regional in 2002, the Southeastern Regional and the World Series in 2008 and The American Legion World Series for four years beginning in 2011.
In October, after an evaluation of the first two years of the four-year agreement, the National Executive Committee of The American Legion extended the contract through 2019 with automatic renewal for an additional five-year term, and, following that five-year term, renewal for another five years. In making the announcement of the contract, Legion officials noted that the Shelby and Cleveland County entities involved in the World Series have gone above and beyond expectations by hosting community concerts, numerous veteran tributes, receptions and other special events, enhancing the overall quality of the ALWS experience for youths, spectators and the national association.
Shelby and Cleveland County completed record-setting American Legion World Series in 2011 and 2012, selling in excess of 86,000 tickets in 2011 and almost 102,000 tickets in 2012.
Tickets for the Hall of Fame Banquet are $20; they are on sale at Champion Communications, 500 West Warren Street, Shelby, during the weekday hours of 9 a.m. to 5 p.m. Checks should be payable to American Legion Post 48 Baseball. Tickets also can be purchased by credit card online at www.AmericanLegionWorldSeries.com. The banquet includes a social hour at 5 p.m., a meal at 6 p.m. and the guest speaker and awards at 7 p.m. The banquet will be at the Hickory Fairgrounds, 1127 West Highway 70, Newton, N.C.


Printer-friendly format
---
---
Digital Edition
Advertisements