Teddy Bear aka Carl Fortenberry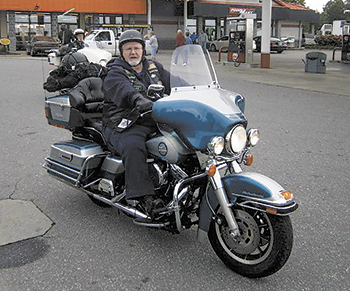 True to his nickname, Teddy Bear (aka Carl Fortenberry) is a big, lovable, softie of a man, that even his loud motorcycle and biker club leather can't disguise. He has a giant heart and is so lovable, according to Carol Goforth, of North Shelby School. Many of the North Shelby students know him by sight and name because of his work as a volunteer with the Special Olympics of Cleveland County and mostly because he organizes the sponsorship for "Teddy Bear's Beach Run" every year, which is the Senior Beach Trip for the North Shelby students that are graduating. Carl looks forward to this event every year, and he, along with other volunteers, escort the student caravan out of town, and some even take a vacation and volunteer to go to Myrtle Beach every May. He also hosts a chicken dinner fundraiser on the last Friday of every January to raise money so that each senior has the opportunity to go on the trip. Fortenberry became involved with North Shelby through his job at Eaton Corporation. Teddy Bear says, "Eaton is a corporate sponsor for the Special Olympics Cleveland County. We have a team that cooks for all the athletes and volunteers at the Special Olympics Spring Games so that's how I got hooked up with them". The idea for the beach trip came from the days when he used to belong to the Gastonia Harley Owners Group & they helped sponsor a senior beach trip for the seniors at Webb St. School which is a special needs school like North Shelby. "We never did go with the kids but would give them a motorcycle escort out of town" which then led to him thinking that the North Shelby Seniors deserved a reward for facing their everyday difficulties and making it all the way through school. Teddy Bear is quick to deflect credit from himself and give it to the other volunteers that help make this event happen. "People like Robert Hunt who helped get the trip off of the ground and several of the guys that ride their bikes down with us have been every year". He also gives credit to others like Carol Goforth who works from the school and Doug Fortenberry with his cooking team, along with many others that make sure this event is a success for the kids from year to year. They also always welcome more help and donations for the kids.
Teddy Bear has a history of service and volunteering, other than just doing the Beach Run. He is a former member of Number 3 Fire Department and Shelby Rescue Squad. He also retired from the Army National Guard after 20 years of service. He was a charter member of the Windjammers Motorcycle Club, and after a break, is again a current member and participant in the Windjammers Ride for the Children of Cleveland County. All of this contributes to his daughter, Suzy Fortenberry, describing him as inspiring. "He is one of the most kind hearted people that I know. I'm proud that he is my Pop! He inspires me to be a better person". Suzy says that she loves the time she has with him on Sundays, when they attend Mt. Zion Church together, then sometimes have a family lunch. Carol Goforth agrees with Suzy and says that you can see Teddy Bear's tender heart, kind spirit and that he is always giving of himself to make sure others are better off. When Teddy Bear isn't at work at Eaton Corporation in Shelby, volunteering or organizing his Beach Run, he enjoys riding his Harley and spending time with his family. Carl and his wife,Patty, live in Casar.

Printer-friendly format
---
---