Three Families Receive Computers and WIFI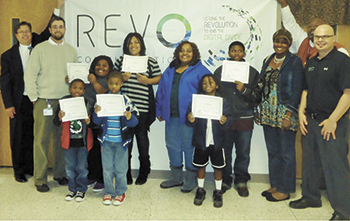 Three families are now part of the digital world thanks to the joint efforts of the Boys & Girls Club of Cleveland County, Revo Communications, and Shelby Community Technology Fund.
Six children were identified who participated in the After School Program at the Boys & Girls Club who were in the service area for Revo Communications to receive free WIFI. Once the children were identified, Mary Pass, program director at the Club, met with the children and parents to explain the twelve hour Digital Literacy Program that the families needed to complete to be eligible for a free computer, to access the internet through WIFI provided by REVO.
Jakeem and Jaqurion French, students at James Love Elementary and the sons of Kaila French; Essence Ervin, Shelby Middle School, and Rita Ervin, Shelby Intermediate School and their mother, Charlene Ratchford and their grandmother Rita Ratchford; and Ikee Bridges, Shelby Intermediate School, and Izay Bridges, Graham Elementary School, sons of Elesha Johnson attended the classes offered at Turning Point Academy by Brad Andrews, teacher and Rodney Borders, principal, with Sergeant Keith Bridges, Shelby Police Department helping with one class.
Andrews covered computer hardware and software, setting up and using an e-mail account, internet safety and accessing proper websites. Sgt. Bridges covered the dangers of sharing personal information over the internet and other precautions to be sure the families understood some dangers related to internet access.
David Motz, Marketing and Development Director, Revo Communications explained to the families how they would have WIFI access provided by Revo Communications through high school. Motz has been instrumental in obtaining the reconditioned computers from the United Way of the Triad at a reduced cost.
The last night of the educational classes, Andrews presented a diploma to each student for successfully completing the class. The students parents and grandparents were excited as the final exercise was to connect the computer hardware as a family so that they would know how to do this after they got the equipment home that evening.
"The smiles and excitement on each child's face makes this program so worthwhile." Said Motz. "We are living in a Digital Age. When children do not have access to the internet and a computer at home, they may fall behind in school. We are making a difference one family at a time."
Essence Ervin and her grandmother looked at the computer and Essence smiled and said, "Now I will be able to work on school work at home and the Boys & Girls Club. This is great!"
If you are interested in supporting this program, please contact Ray Hurley at the Boys & Girls Club by calling in the afternoon and evening at 704 482-3258 or stop by 412 West Sumter Street, Shelby.


Printer-friendly format
---
---