Vince Reese, Clearwater Paper Plant Manager Received Emerging Leader Award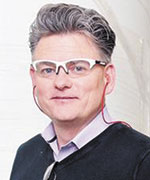 Clearwater Paper Plant Manager, Vince Reese, recently received the Emerging Leader Award at the Charlotte Business Journal Advanced Manufacturing Awards presentation in Concord.
Vince was recognized for his leadership and collaborative efforts in bringing local community resources together to create a hiring model that has helped Clearwater Paper place the right people in the right jobs at their new Shelby plant.
"Vince formed a steering team that worked for a year to help Clearwater recruit, screen, train and hire workers", says Bill Robertson, director of the Region C Workforce Development Board.
Local resources that make up the steering team include Cleveland Community College, Cleveland County Economic Development Partnership, NC Employment Security Commission, and the Region C Workforce Development Board.
Clearwater Paper initially received over 2,500 applications for jobs at the new Shelby plant. Following a process that consisted of initial screening, pre-employment training developed and provided by Cleveland Community College, and personal interviews about 80 people were eventually hired from the first batch of candidates. Clearwater has repeated the process several times since to hire additional workers. Reese expects to have 250 employees working at the Clearwater plant by the end of 2013.
Since developing the process the Cleveland County Economic Development Partnership has used the model to help recruit additional manufacturers. "The recruitment process that was developed by and for Clearwater Paper was a major contribution to Cleveland County and the region," Robertson said in his nomination letter for the award. "The concept is an asset that has been used in other economic development and industry-recruitment initiatives."
Reese is also working with the Cleveland County Chamber's Business Education Alliance to create a teacher intern program. Last summer local schoolteachers spent two weeks working at Clearwater while learning about the skills students need to be successful. This summer the teacher intern program will be expanded to include other businesses and more teachers.

Printer-friendly format
---
---