Volunteers collect over 500 pounds of trash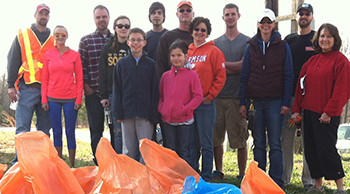 On March 15th, Keep Shelby Beautiful kicked off the first event of this year's Great American Cleanup. Volunteers of all ages began arriving at 9:00 AM to pick up trash and recyclables along Cameron Street and Lily Street (The neighborhood behind the Shelby Middle School football field). The weather was clear and cool; Perfect conditions for a litter sweep in a quiet neighborhood.
The volunteers proved the saying, "many hands make light work," to be true that day. The 18 participants removed 23 bags of litter, several tires, a television set and one broken mirror from along the streets in just over an hour. Volunteers also piled brush and dead vegetation for collection by Shelby's Public Works Department. The total weight of refuse removed was over 500 pounds!
Keep Shelby Beautiful knows that clean communities are not just nice to look at – they are economically vibrant and environmentally healthy places where people want to live, work, shop and play. Service to the community is the ultimate declaration of love for where you live and for the people you share it with. Volunteer service is an important way that anyone can contribute to improving the quality of life in the community.
Keep Shelby Beautiful would like to thank all the volunteers that participated and made this event so successful!
To find out more about how you can help keep Shelby clean and beautiful, contact Keep Shelby Beautiful Coordinator, Jordan Tubbs at 704-484-6829 or email jordan.tubbs@cityofshelby.com. Be the first to know about Keep Shelby Beautiful events on the City of Shelby's Facebook page. Follow Keep Shelby beautiful on Instagram; search #keepshelbybeautiful.


Pictured: Volunteers From Cameron and Lily Litter Sweep on March 15 (l-r): Chris Martin, Haley Hopson, Duane Heafner, Jesse Heafner, Clay Heafner, Ben Kittrell, Millie Kittrell, Trey Kittrell, Dana Scoggin, Joe Suttle, Marywinn Amaya, (Front Row) Linton Suttle, Gray Suttle. Not Pictured: Fred Blackley, Walt Scharer, Catee-Blythe Scharer, Beau Schare and Jordan Tubbs.


Printer-friendly format
---
---