Our prayers and well wishes are with Dustin Garver and his family.
Each week we reward one of our readers with $100. This week, we congratulate our "Lucky Reader of the Week",
Revive Church, Pastor Austin Porter and Kidsville News mascot, Truman, pose for a photo at the Back-To-School Bash held last weekend at the Dover Foundation YMCA.
When the Spirit of Jesus or God is USED, it means that it is in transit or movement. When this Spirit lands or is consumed, it is the Holy Ghost that causes this to happen.
KOSA
The retirees fished lake Hickory last week with Ronnie Humphries getting the win. Humpy had 8.30 for a total weight and he had a 3.95 largemouth,
John Glenn (left) and his friend Greg Hoyle cautiously hold a 30 pound Common Snapping Turtle
Main Street Baptist Church, Spindale
American Red Cross Bloodmobile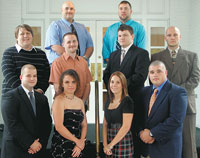 Students in the Cleveland Community College EMT-Paramedic class were honored August 17,
NC Cooperative Extension is pleased to announce the availability of cost-share grants of up to $10,000 for individual farmers and up to $30,000 for farmer groups.