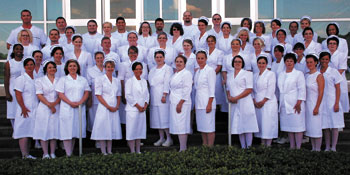 Fifty-seven students in the Foothills Nursing Consortium Associate Degree Nursing Program were awarded their pins at a special ceremony recently at Isothermal Community College.
The "Equestrians For The Cure" 4th annual trail ride for Multiple Sclerosis was held May 5th in Hollis NC. The ride brought in 113 registered riders and raised $4250! The money will be sent to the National MS Society to help find a cure for multiple sclerosis.

Do you know in whom you have believed? If you answered yes and your answer is Jesus, then you are up in the ranks with Paul, who wrote a good portion of the Bible. My mind brings to remembrance that Paul was at one time Saul of Tarsus.
Friendship United Methodist Church, Fallston
Friendship United Methodist Church invites children to Kingdom Kids, a Wednesday night children's ministry. Bring your child for Bible lessons, music and lots of fun. Every Wednesday night from 6:00 until 7:00 pm. The Church is located at 111 Friendship Drive, Fallston, NC. For more information contact Bethany Clay at 704-538-9243.
Parkinson Support Group, Neal Sr. Center
A Parkinson Support Group Meeting will be held the 2nd Tuesday of each month at 1:30 p.m. at the Neal Sr. Center, 100 Harris Dr., Shelby. Sgl. Doug Murph 704-487-8822.
On April 28, Keep Shelby Beautiful (KSB) announced the results of the 2012 Big Tree and Goofiest Looking Tree Contest during the Arts on the Square Festival in uptown Shelby on the court square. The contest is a way to celebrate the City's tree heritage.