Latest News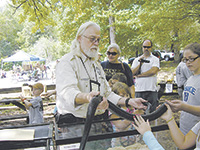 Build a bluebird house to take home. See lots of snakes. Take a horse & wagon ride. Listen to Appalachian music. South Mountains State Park will host the 10th Annual Nature Day on September 29th from 11:00 to 4:00 p.m. A variety of programs, exhibits and music will be presented throughout the day.
Slideshow
The ELLIOTT FAMILY FARMS Sorghum Cane Maze is now open!
It was less than 30 minutes to go on Labor Day Monday before the Shelby City Parks' Aquatic Center would close for the season. Getting in a last splash were siblings Grace, Isaac, and Cana.
We've always known that God is always watching over us – and he has proved it once again by sending us another angel. Janie Henderson has been so wonderful about coming in every morning cleaning, vacuuming,
Opinions
Peter did not want to be an evangelist to the Gentiles. All his life, he had been taught that every Gentile was a sinner and that he, a Jew, was not. But when God told Peter to go to them, he went and took others with him. What changed his mind? It all came about because of a vision that God sent to Peter when he went up on the roof to pray. Visions were a common thing with God.
Sports

When I was young, Labor Day marked the beginning of the school year. It seemed that I joyfully anticipated going back to school as much as I joyfully anticipated it being over in the springtime. These same anticipations are still shared by parents all over the U.S. (you know who you are).
Burns High School is getting ready to launch this year's annual Hunters Helping the Hungry project. Our project will start on September 10, 2012 (the first day of deer season), and will last until the last day of deer season.

Church News
Temple Baptist Church, Shelby
Temple Baptist Church, 1105 Bridges Street, Shelby, NC would like to announce their new Pastor, Rev. Tommy Dean Price. The new Pastor and the entire church family would like to invite everyone to take part in our worship service. Sunday School, 10:00 am; Preaching, 11:00 am; Sunday evening, 6:00 pm; and Wednesday night, 7:00 pm.
Church Directory
The International Demolition Derby will have two big nights of car crashing action in 2012 at the Bar H Arena in Boiling Springs, NC. The dates are Saturday, September 8 and Saturday, September 15.
Chris Richard, a recent graduate of North Carolina State University, got another degree last Friday in pancake cookery. Chris volunteered his time, along with many others, on the Kiwanis Pancake Express wagon.