17th Annual Communities In Schools Celebration Tournament - Team Up "Fore" Kids
Deer Brook Golf Club, Shelby • Friday, April 5, 2013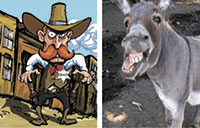 The Cleveland County Sheriff's Office proudly presents, "Deputies on Donkeys", a donkey basketball game that will be held on April 11, 2013 at Crest High School. The doors open at 6pm and the game starts at 7pm.
The 6th Annual Special Olympic Cleveland County/North Shelby School Benefit Fishing Tournament was held on November 3, 2012 at Pinnacle boat landing on Lake Norman.
Hospice of Cleveland County will hold a Chicken Dinner Benefit on Friday, April 5th At Hospice Cleveland County 3 PM-7PM. Cost is $10 A PLATE and includes 1/2 Chicken, Slaw, Pickles, Baked Beans, Roll, Dessert. Drive-Thru Only.
Egg Hunts & Fun 2pm Meet in train parking lot…
850 W. Sumter Street • Shelby, NC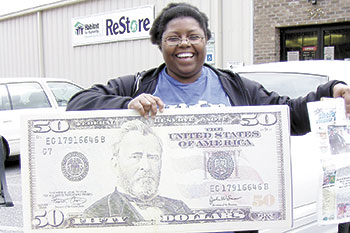 We presented $50 to Lavandra Hill when we spotted her getting her
Shelby Shopper & Info at
Habitat for Humanity Restore in Shelby.
Be ready…. YOU could be our next LUCKY READER!
Depression and Bipolar Support Alliance, Shelby
DBSA support groups are open to anyone who is diagnosed with a mood disorder, has a family member or friend who is diagnosed, or who thinks they might have depression or bipolar disorder.
Elliott Family Farms will host a two day family fun primitive camping Relay For Life event with music, food, and games in May! Music will be provided and will include a special kid's night on Friday, May 10.