Showing 13 articles from March 12, 2014.
---
Slideshow
Help us help a friend in need. There will be a benefit for Roger Padgett on Sat., March 22, 2014 at 1323 N. Post Rd., Shelby, NC. Admission is $15 - BBQ plates will be available for $10. The event will feature a silent auction and live music.
The Upper Cleveland Rescue Squad is having a BBQ fundraiser on Sat., March 15, 2014 at the squad located at 1032 West Stagecoach Trail, Lawndale, NC.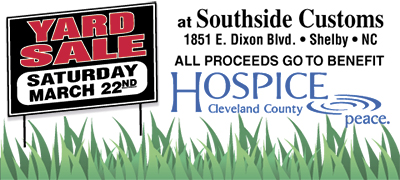 ST12 will sponsor a yard sale from 9am until 2 pm on Saturday, March 22, 2014 at Southside Customs located at 1851 E. Dixon Blvd. in Shelby. Proceeds from the event will benefit Hospice of Cleveland County.
The National Mobility Equipment Dealers Associations (NMEDA) kicked off its National Mobility Awareness Month campaign on February 26, 2014, and marks the third year for what has now become a successful annual contest in which three deserving "Local Heroes" will be awarded a wheelchair accessible vehicle tailored to meet their needs through an online contest.
Opinions
Many ask this question. A Righteous Holy Bible can give the answer to a lot of questions of the day. Especially to children. When we are born we follow our ancestors by the same name.
Obituaries

Baxter Manley Hayes, Jr., age 84, a resident of Kings Mountain, NC, went to be with the Lord on Monday, March 10, 2014 at Kings Mountain Hospital.
Floriee "Flo" Elizabeth Able Pow Boyles, age 95, of Somerset Court, died on Tuesday, March 11, 2014 at her residence.
Name : Heinz Lumpe;

Age: 67;

Address: Iron Station, NC;

Date of Birth: February 20, 1947;


Passedaway: March 10, 2014
Mark Edwin Byers, age 53 died Monday March 10, 2014 at Crowder's Mountain State Park.
Sports

CCBC
The Cleveland County Bass Club fished their Top 10 fish off last weekend on Fishing Creek. After all the mid week rain and cold, it was a tough day for most. Roger Beaver brought in 10.64 and got the win.

It doesn't take too many warm days in a row and one begins thinking spring. And with the recent time change, I'm all in! It's official for me.
Church Directory
The Cleveland Mustangs Cheerleading Team participated in the North Carolina Special Olympics Tournament on Saturday, March 1, 2014 at Davie County High School in Mocksville, NC. The team members are back row left to right: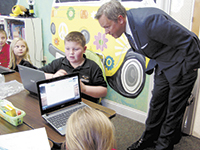 Lt. Governor Dan Forest visited Pinnacle Classical Academy this week.