3rd ANNUAL CLEAR MOUNTAIN MUSIC FESTIVAL...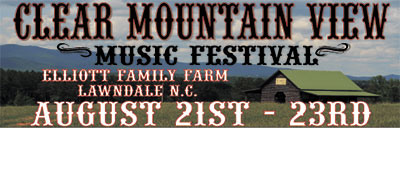 Elliott Family Farm and Budweiser present the 3rd Annual Clear Mountain Music Festival on August 21-23, 2014 at Elliott Family Farm in Lawndale, NC. The annual event features live music, camping & food.
Big name acts include: Hackensaw Boys, Big Daddy Love, Yarn, Sol Driven Train, Corbitt Brothers, Dirty Grass Soul, Blue Dogs, L Shape Lot, Shannon Whitworth, The Howlin Brothers, Josh Daniels & Mark Schmitt Project, The Packway Handle Band, Lily Tallent, Unspoken Tradition, The Moore Brothers, Oak Grove String Band, Ranford Almond, Carson Hill, Chuck Johnson, The Ya Yas.
Visit www.elliottfamilyfarm.com or www.clearmountainviewmusicfestival.com for tickets, compete lineup and more details.

Printer-friendly format
---
---