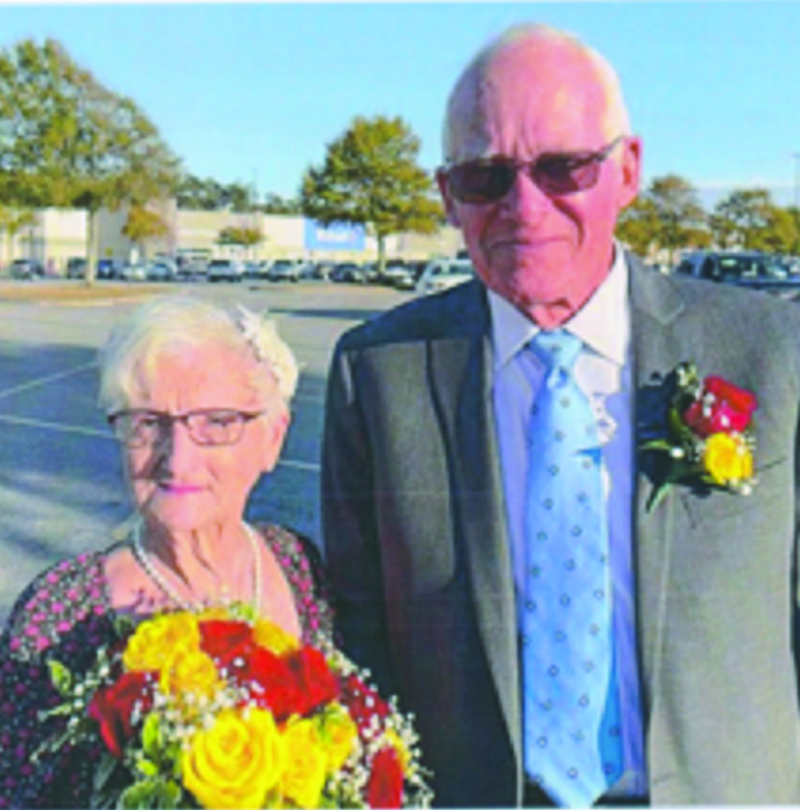 For Jane Billedeaux, 83, and Harris Putnam, 82, words like "hope" and "true love" aren't just words, they really do mean what they say. They mean happiness can happen to anyone any time, no matter how much time has passed.
After all, it's not every day, Jane said, you have an old flame call on you in order to propose to you after many decades apart and numerous marriages (with children too!) between them.
The loving couple tied the knot in November 2021 in the Walmart parking where she worked as a customer hostess. The minister was Gary Donaldson, who also worked nearby and knew Jane. Wedding guests (between 50 to 75, she said) were family and many of Jane's fellow Walmart employees.
Mrs. Putnam said she and Harris were both born and raised in Earl, went to school there and became what she called "sweethearts" there in their fifth and sixth grade years.
After going their separate ways, marrying (three times for her, each ending in the death of her husband at the time), and the death of Harris' wife, Jane said she felt it was not meant to be for her to be married. Little did she know that Harris had apparently never forgotten her and set about trying to find her. He did by going to the Earl post office, she said, and asking if they knew if she still lived there. Though she worked at a Walmart in Myrtle Beach, S.C., she still had her house in Earl and just happened to be visiting with family, so was back in town.
"I was home (August 2021) for a nine-day vacation from my job at the Myrtle Beach Walmart. Harris called me and we met at 8:30 a.m., on a Tuesday. He brought me a big, beautiful bouquet of roses. They were so big I couldn't see him behind them!" she said, smiling. "He took me to Tryon to see waterfalls; he loves waterfalls. We were together eight of the nine days I had off."
Jane said Harris must have still had some feelings for her in the 64 years they were apart, but it still hit her, as she said, "...like a ton of bricks" when he proposed to her.
"He said he wanted to marry me before Thanksgiving, but I didn't give him an answer right then," she said. She wanted to talk to her best friend, her daughter, Frances Pruitt. After that Jane said she felt she had to say "Yes!" to Harris.
Harris, said Jane, worked for the government for 30-plus years, retired from that, then worked at the Charlotte-Douglas Airport for a number of years.
The two are very active, she said, with there being three months difference in age between them, she noted, adding that she is the older of the two of them (her: March 27, to his: June 13).
Jane said she knows their wedding has even been on Google, adding she is grateful it has touched so many lives in a positive manner.
"Our story has given so many of all ages hope; that they too can find someone; find love. Don't give up! Anything can happen." she said.
Of their wedding, she said, "It's like a big dream! It's like a plaque we saw in Walmart about good things are yet to come. We bought it before our wedding. It's now hanging in our bedroom in our house. Harris loves it as he is very romantic! I could not have gone out and found a better man than him."
In closing, Jane, who still works as a customer hostess at the Shelby Walmart, said, "I am blessed; we are blessed. The Lord has been so good to me; to us."