HOPE FOR CAREY FUNDRAISER JULY 17 @ 5 PM
At Ham's "Celebrating America parking lot party" last Friday, Samantha Rikard waits as Dale Steele takes a toss during a game of cornhole. The party started at 3pm, featured three bands, food and drink specials, and lasted on past Cleveland Mall's fireworks display. Ham's restaurant is located at 1910 E. Dixon Blvd., Shelby.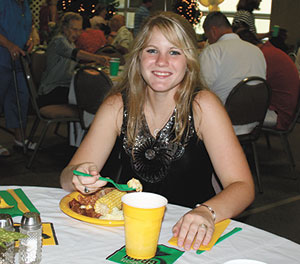 Bonnie Elizabeth Scruggs received a special graduation dinner by her parents Johnny and Pam, on Saturday, June 26th at Flint Hill Baptist Church's fellowship hall. Bonnie will be attending Gardner-Webb University this fall and plans to major in music education and eventually get her masters degree and become a conductor.
The Upper Cleveland Horned Frogs are the 2010 Regular Season Champs and Rookie Division Tournament Champs. Pictured front row left to right: Ethan Hull, Mason Carlton, Carson Shoup, Khalill Phillips, Hagan Jones and Aron Foster. Middle row: Patrick Spangler, Eli Hester, Chancelor Bradshaw, Zach Benefield and Ikee Bridges. Back row: Coaches, Travis Jones and Lee Spangler.
Beulah United Methodist Church
The Interfaith Alliance is now in charge of "The Beacon" men's shelter and the operations manager will be David Blanton.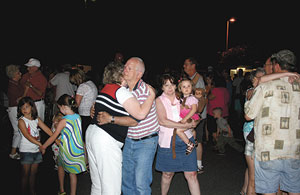 The band Ocean Boulevard headlined Fallston's Fun Fest again this year. Their tunes had the family filled audience up in front of the stage dancing and hugging. The festivities included a parade, kids games, a cake walk and a huge fireworks display. The celebration took place at Fallston Elementary School last Saturday on July 3rd.
Did you see Larry Holmes gassing up at Lowery's Country Corner in Patterson Springs?
Christian Scott Mullis just turned 18 years of age this past June 17th. I sat down for this interview in the fellowship hall at David Memorial Baptist Church this past Sunday