Freddie Garrett (left) of Forest City won this 125cc 4 wheeler in the Windjammers Motorcycle Club raffle.
Friendship United Methodist Church, Fallston
Friendship United Methodist Church invites children to Kingdom Kids, a Wednesday night children's ministry.
Piecemakers Quilt Guild
"Piecemakers Quilt Guild meets the first Wednesday of each month from 10AM - 12PM at the Lincoln County Senior Center, Lincoln Campus of Gaston College, 511 Aspen Street, Lincolnton.
The Lawndale Lions Club presented the town of Lawndale with a United States flag at their January meeting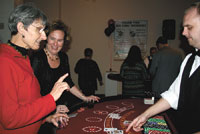 They called it "The Big Chill" Casino Night and big it was.
HarvestWorks, located at 891 North Post Road in Shelby, now has a full time cafe and bakery.

Leah Stain has been named the 2012 Academic Excellence Award winner at Cleveland Community College.