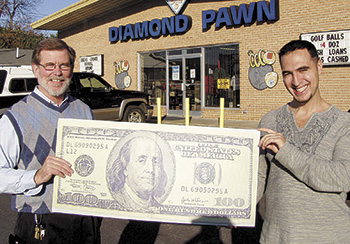 Our week #12 Shelby Shopper & Info Football Contest winner was Ahmad Elkout of Shelby. Ahmad has been playing our Football Contest for the past four years and he's a Carolina Panthers fan.
Why do we have to repent? Simply because we are born into sin. When a person repents and turns to Jesus they are "born again". Luke 15:10 says, "Likewise, I say unto you, there is joy in the presence of the angels of God over one sinner that repenteth."
Almost all of the world's religions are recognized by what they stand opposed to. Their list of don'ts if you will. Those pesky taboos dictating what one says, sees, hears and thinks.

KOSA
The retirees fished Lake Wylie last time out with David O'Shields and J R Henry getting the win with 9.50. Ronnie Humphries had 7.60 and was second and he also had big bass with a 3.50 largemouth. Mack Wyatt and John Black was third with 2.0. There was no report from the Kosa gang last week, more than likely they took Thanksgiving off.
Habitat is a word that is used quite often in the world of the outdoorsman. If you have lived more than a couple of decades, you have witnessed changes in the habitat in the area that you live and/or hunt. As our population increases, houses will continue to take land that is the home to a variety of animals.
Ashley Williams, 21, bagged not only her first deer but she also got an impressive nine pointer. She used a 30/30 Winchester rifle. She is currently attending Catawba Valley College.
Piecemakers Quilt Guild
Piecemakers Quilt Guild meets the first Wednesday of each month from 10:00am to 12:00pm at the Lincoln County Senior Center, Lincoln Campus of Gaston College, 511 Aspen Street, Lincolnton, NC, in room 319.
Twenty-six years ago the Cleveland County Farm City Week committee decided to recognize an individual and/or entity that has made contributions now or formerly to the agriculture sector of Cleveland county. Carolina farm credit having been associated with agricultural lending for over 95 years is proud to be able to sponsor this award in conjunction with the farm-city week activities.
Cleveland County is home to a rapidly growing local foods movement - one in which local farmers take pride in producing the very best fruits, vegetables, meats, dairy, eggs and value-added foods available anywhere and where consumers enjoy the rich rewards of eating it.