Latest News
The Cleveland County Astronomical Society (CCAS) will host the 21st annual Regional Meeting of Amateur Astronomers on Saturday, January 26th, 2013 at the Tucker Student Center at Gardner-Webb University.
Slideshow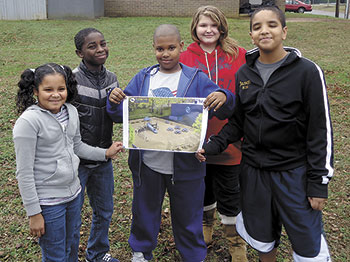 (Left to Right) Gladymar Martinez, 4th grader at Graham Elementary; Jaylen Gullatte, 5th grader at Elizabeth Elementary; Taylen McDowell, 5th grader at Boiling Springs Elementary; Kayla Jenkins, 7th grader at Shelby Middle School and Jason Wray, 6th grader at Crest Middle School present the plans for the new Boys & Girls Club of Cleveland County playground. The playground will be named in honor of Joe and Sophie Goforth, longtime supporters of the club.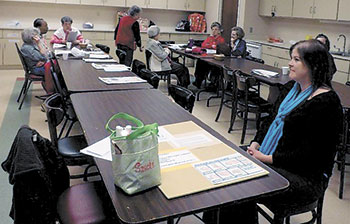 Daytime Friends meet each Thursday at the Neal Senior Center from 9 a.m.-12 noon. This is a group of ladies who are caregivers or have caregivers. This program gives them an opportunity to have social activity. Activities are planned each week for them to participant in.
Opinions
In the beginning we had plenty of laws that were wrong to break. Yet, no law could forgive when you did break one. Our God, being an all knowing God, knows that we were born into sin, and knows that it was easy for us to commit sin.
Some people think this country's best days are listed on an outdated calendar, and that we will never again be the powerful force in the world that we once were. With the ever looming threat of terrorism, our own self-inflicted violence, the instability within our financial institutions, and the increase in medical care and the costs it generates, it's hard to argue the point.
Sports

With the holidays, family health and slow fishing, hopefully behind me, I can once again get back to reporting on one of my many passions. The local bass fishing scene. With that said, please enjoy.

Several years ago it was not unusual to make one or two trips per week to wade the Cherokee Lake. Late winter always proved to hold enough of the bass variety to keep me fishing even in the most extreme conditions.
Church News
Putnam Baptist Church, Shelby
Marriage 911 First Response - Is your marriage in crisis? Do you see the signs that your marriage is headed towards crisis? Are you separated and on the path towards divorce? There is a reason to have hope! For more information call 704-477-1168. Premarital- Enrichment- Crisis/Separated- Stepfamily. www.allinmarriage.com. allinmarriage@gmail.com
Calvary Way Holiness Church, Kings Mtn
Neighborhood Calendar
Depression and Bipolar Support Alliance, Shelby
DBSA support groups are open to anyone who is diagnosed with a mood disorder, has a family member or friend who is diagnosed, or who thinks they might have depression or bipolar disorder. DBSA support groups are not run by professionals, but instead offer peer-to-peer support.
Church Directory
The Cleveland County Sheriff's website, through a partnership with Leads on Line, is offering a FREE SERVICE to residents of Cleveland County. The free service named "Report It" is a secure web-based service which offers the citizens of Cleveland County an opportunity to record serial numbers, photographs, and owner applied numbers for their valuables.
One of the biggest fundraisers by the "Because We Care" program at Cleveland Regional Medical Center takes place on Saturday, February 9th at the LeGrand Center.
There is a new Rescue Mission Thrift Store opening in Shelby, NC. Rescue Mission Thrift Stores, supporting Cleveland County Rescue Mission, is opening its first store at 1661 East Dixon Blvd. in Shelby Plaza between Big Lot's and Planet Fitness. The Grand Opening is Thursday January 31st from 9am to 7pm.
Ten year old Austin Tessneer, proudly displays the car he built and wears the first place ribbon he won in the Pinewood Derby, Weblos division.