On Thursday, January 31, Fred and Jennipher Harrill were honored as 2012 Main Street Champions at the North Carolina Main Street Annual Awards Ceremony in Salisbury.
Combining the best of Cleveland County for one event! Make your Valentine's Day weekend special with Wine, Swine & Flyin' on February 17.

We presented $50 to Susan Setzer when we spotted her picking up her Shelby Shopper & Info at Tri-County Grill
CLEVELAND-RUTHERFORD KIDNEY ASSOCIATION PRESENTS
Rolling Rock Entertainment
THE ALOHA SHOW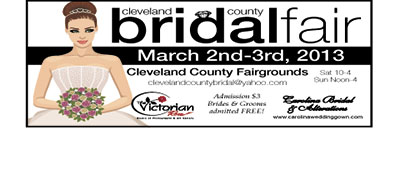 The Cleveland County Bridal Fair will be Mrch 2nd-3rd at the Cleveland County Fairgrounds.
Let's tackle head on a subject that continues to be awash in the religious community. Are Christians supposed to be and entitled to be rich and healthy?
One of the wildlife success stories in my area is the reintroduction of the elk. While Tennessee is coming along more slowly, Kentucky now has a heard of over 10,000 and last year over 800 tags were issued to hunters.
Kosa
The weather finally cooperated with the Kosa guys as they were able to fish last week. Lake Wylie was the site. John Black and Mack Wyatt brought in 10.80 to capture the win. David O'Shields and JR Henry had 10.0 and were second and coming in third was Tommy Wess and James Haynes with 5.20. Big bass of the day was a 5.0 brought in by the team of O'Shields and Henry. This week, the retirees head to Lake Norman