Latest News
George and Elizabeth Ledford of Shelby recently took a vacation to San Diego. Their trip included getting to see their grandson Sgt. Jeff Bradley, his wife Lauren and great-granddaughter Kaitlyn.
Sports
One of my most enjoyable outdoor experiences as a kid was swimming at our local community pool. As far back as I can remember, my summers were spent either at the baseball field or at the pool and both were within one block of each other.
The Shelby Aquatics Center at Shelby City Park opened their season Memorial Day weekend.
Church News
Macedonia Missionary Baptist Church, Waco
Macedonia Missionary Baptist Church, 235 A.W. Black Street, Waco, NC. will have a "Turn Up For Jesus" Party hosted by their Youth Department, May 30, 6:30pm. There will be various youth choirs from surrounding areas, praise dancers, spoken word, etc. For more information, please call church office at 704-435-8842 or via email at macedoniamissionarybaptist@yahoo.com.
Neighborhood Calendar
Relay for Life Cleveland County, Shelby
Post Bank Night, June 3, 5:00pm til 7:00pm, Landmark Baptist Church.
"Finish the Fight" - Beans & Strings Pinto Bean Supper with Leonard McSwain Band, Saturday, June 7, at Double Springs Baptist Church Family Life Center. Pinto Bean Supper, 5:00-6:30pm, Leonard McSwain Band, 6:45-7:30pm. Admission: Donation to Relay for Life
Church Directory
Kings Mountain, NC – Your Town's "hams" will join with thousands of Amateur Radio operators who will be showing off their emergency capabilities on June 28-29.

Bojangles' Famous Chicken 'n Biscuits will be serving those mouth watering biscuits soon in Boiling Springs. Bojangles'® core menu is the same now as it was when it began in 1977:
The Carolina Renaissance Festival, a combination of outdoor theater, circus, arts and crafts fair, jousting tournament and feast, will hold open auditions on Saturday, June 14th from 9:00 AM to 12:00 PM and Saturday, June 21st from 9:00 AM – 12:00 PM at the Cannon School located at 5801 Poplar Tent Road, Concord, NC 28027.
"The Chicks Band", former schoolteachers, provided an array of old time and religious songs with their string band and harmonies inside the Belwood community center.
After several school fundraisers and a grant, Graham Elementary finally got their new playground equipment.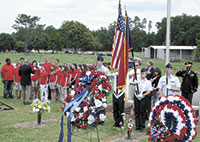 A special Veterans salute was held Memorial Day weekend on Sunday, May 25th at Cleveland Memorial Park.
Belwood Days began in the late 70's when the Belwood School closed. The event is a reunion held for people who graduated from the school and/or lived in the community.
Opportunities for technical education in Cleveland County received a boost recently, thanks to $1,000 in scholarship funds from AT&T.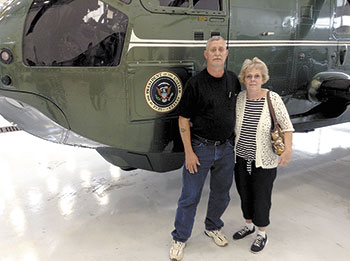 George and Elizabeth Ledford of Shelby got a chance to tour Marine One, the specially equipped helicopter that transports the President, during a recent trip to San Diego.