Showing 12 articles from June 4, 2014.
---
Slideshow
Clineland Strawberries has a new attraction! Not only can you get fresh strawberries, when in season, at the farm located at 2784-4 Clineland Rd., Cherryville, NC, but you can also become "part of the crop". Pictured (l to r) Edley Lattimore, Dillon Harris, Brooke Harris and Basilio Hernandez.

The Lord Provides Soup Kitchen Hot Dog Fundraiser is Saturday, June 7, 2014 from 11am until 2pm at the Belwood Community Center • Belwood, NC. Help Us Get A Start! Upper Cleveland Soup Kitchen Committee 704-538-1479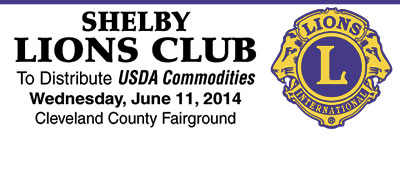 The Shelby Lions Club will be distributing USDA Commodities on Wednesday, June 11 at the Cleveland County Fairground.
Obituaries

Ellen Williams Cook, 89, of 126 Susan Road, Casar, passed away Tuesday, June 3, 2014 at Cleveland Regional Medical Center in Shelby.
Sports
Kosa
The retirees have fished twice since I last reported, once on Lake Norman and once on Lake Hickory. On Lake Norman, John Black and Roger McNeely grabbed the win with 12.4.
July will mark my eleventh year of doing this column. It has been a very satisfying and life-altering period of time. It all started when I bought an ad in two different newspapers for an event that was taking place.
Cross Trail Outfitters is a hunting and fishing club that is all about building relationships with youth, their families, landowners, volunteers and donors.
Church News
Corinth Baptist Church, Casar
Corinth Baptist Church WMU in Casar will be having a Hotdog / Bake Sale, Saturday, June 7, 8:00am - until, at Casar Volunteer Fire Department. Hotdogs $1.00 each. Please come out and support Corinth WMU.
Neighborhood Calendar
Relay for Life Cleveland County, Shelby
"Finish the Fight" - Beans & Strings Pinto Bean Supper with Leonard McSwain Band, Saturday, June 7, at Double Springs Baptist Church Family Life Center. Pinto Bean Supper, 5:00-6:30pm, Leonard McSwain Band, 6:45-7:30pm. Admission: Donation to Relay for Life
Music
Church Directory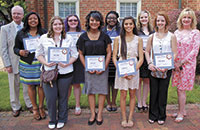 Gardner-Webb Announces 2014 Award Recipients at Annual Event at Chamber
Eight local students will pursue a college education with the help of the Joseph B. Freeman Jr. Educational Fund.
Angelina Smith, a graduate of Burns High School, North Carolina State and law school at Florida Coastal, returned to Shelby in 2011 and joined the law firm of Flowers & Martin.
Digital Edition
View Our Digital Edition!
Advertisements