Showing 13 articles from July 9, 2014.
---
Latest News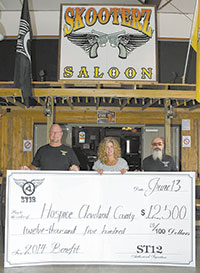 Shelby, NC - ST12, a NC based nonprofit 501C3 organization dedicated to helping those in need in Cleveland County, recently raised $12,500 for Hospice Cleveland County.
Slideshow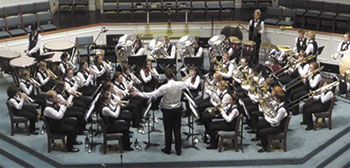 In 2005, 2007 and 2012 the Carolinas were invaded by the British and World Champion Smithills School Senior Brass Band from Bolton, England.
Obituaries
Nancy McGinnis Veeder, age 83, of Roy Eaker Rd. died Monday, July 7, 2014 at her residence.

Mrs. Sarah Ella Thrift Hamrick, age 96 of Shelby, NC, passed away Wednesday, July 9, 2014 at the Shelby Manor in Shelby, NC
Sports
I walked up the hill with my tree stand in one hand and my back pack in the other. It was only a short trek so I decided to carry the backpack instead of wearing it on my back.
Church News
Central United Methodist Church, Kings Mtn.
Central United Methodist Church, 113 S. Piedmont Ave., Kings Mountain, NC will be having a breakfast Saturday, July 12, 6:00am until 10:00am.
Neighborhood Calendar
Association for the Welfare of Animals
NFL (Neuter For Life) Draft is a spay/neuter program offered by Association for the Welfare of Animals of Cleveland County in conjunction with Foothills Low-Cost Spay/Neuter Clinic of Hickory.
Church Directory
Casar's July 4th Celebration was held at Casar Park with a nonstop exhibition of fun free activities.
Neal Senior Center Covered Meal – Seniors enjoy a covered dish meal at the Neal Senior Center. The next covered dish will be held on July 18th.
The annual Bethware Community Fair in Kings Mountain offered fair goers amusement rides, games, food and lots of fun for five days, July 1 through July 5.
The Be A Member, Bring A Member Campaign is an effort to encourage seniors of Cleveland County to not only join the Senior Center as a member, but invite someone to join with you.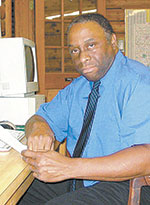 Local artist Robert Ward loves superheroes and brings them to life on the page using excellent drawing and brilliant color with mixed media.
Let's think of our Nursing Homes for a few minutes.
Nursing Homes give our loved ones care and support during their illness until able to go home or provide them with a lifetime home.