Showing 9 articles from August 20, 2014.
---
Latest News
Listen to the SMAC "GAME OF THE WEEK" On Shelby Info Radio.com
Obituaries

Bill Max Harris, age 77, of Henrietta, NC, died Wednesday, August 20, 2014 at Hospice House of Rutherford County.

Martha Virginia "Ginny" Parker Spears, age 90, died Tuesday August 19, 2014 at White Oak Manor in Kings Mountain.
Sports
Seventeen and one-half miles. That's the mark. That's when the hill starts. That's when I go from a comfortable ride to a heart-pumping, sweat-drenching climb.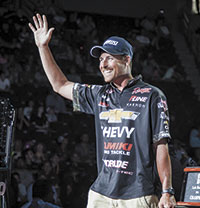 COLUMBIA, S.C. (Aug. 19, 2014) – Chevy pro Bryan Thrift of Shelby, N.C., brought three bass to the scale Sunday weighing 5 pounds, 8 ounces to finish seventh at the Forrest Wood Cup at Lake Murray presented by Walmart.
Church News
Homeschool Association of Polk and Rutherford Counties, Ellenboro
HARC (Homeschool Association of Polk and Rutherford Counties) will hold it's Informational Meeting for the 2014-2015 School Year on Friday, August 22, 6:30pm at Liberty Baptist Church, 821 Webb Rd., Ellenboro, NC. Homeschooling families are invited to attend to find out more about becoming a part of this homeschool association.
Neighborhood Calendar
Council on Aging/Neal Senior Center
Council on Aging/Senior Center, 100 T.R. Harris Drive, Shelby, NC, will sponsor the following events:
"Bingo" - Each Monday Night (except holidays). Doors open at 5:30 (no admittance after 7:00pm). Jackpot - 60 People or more $500. 60 People or less $300. Public invited 12 years old and up.

Church Directory
The Council on Aging/Neal Senior Center is looking for Cast Members to participate in this year's Annual Membership Dinner Theatre play entitled, "The Good Doctor" by Mr. Neil Simon to be held on Thursday, October 23, 2014 at 6:00 p.m.
More than 120,000 North Carolinians will turn 65 this year. Turning 65 is a lot like turning 16. When you turned 16, you didn't automatically get your driver's license; instead you had to take an exam and prove that you were a safe driver.