Slideshow
Sandy Plains Baptist Church, New House, NC will hold their annual All You Can Eat BBQ on Saturday, September 6th from 12 Noon until ...
Obituaries
Shelia Ann Suttles, 61, of 118 N. City Street, passed away Tuesday, September 2, 2014 at Cleveland Regional Medical Center.
Shirley Mae Hudson, age 79 died Tuesday September 2, 2014 at McDowell Assisted Living.
Sports
Moss
On Moss Lake two weeks ago Reggie and Johnny Guffey picked up the win with 9.88. Windell Leonard and Jeff Blanton had 5.76 to take second followed by Jason Hinson and Matt Jones with 4.46.
It seems on opening day, all the sights, sounds, touches, and smells are at their highest peak.
Church News
Grace United Methodist Church, Kings Mtn
Grace United Methodist Church, 830 Church Street, Kings Mtn., NC, will be having a Bible Study on Revelation and parts of Daniel and Ezekiel pertaining to prophecy, Thursday, September 4, 6:30pm until the study is finished.
Neighborhood Calendar
Life Enrichment Center Adult Day Care and Health Services
Are you ready to learn more about Dementia to help your loved one? Join Life Enrichment Center Tuesday, September 2, 5:30-7:00pm for a special video series featuring Teepa Snow, Dementia Expert.
Church Directory
Sheriff Alan Norman would like to announce that applications are now being accepted for the 2014 Sheriff's Academy, which is scheduled for October 6 – November 17, 2014.
The Council on Aging/Neal Senior Center located at 100 T.R. Harris Drive in Shelby is hosting the Annual Shelby Health Fair on Friday, September 19, 2014 from 8 – 11 a.m.
Agricultural Producers In North Carolina Still Have Time To Apply for Direct Farm Ownership Loan Program
Low-Interest Loans Can Help Producers Start or Expand Farms
Gardner-Webb University serves a region steeped in a history of textile production. Pieces of that rich history are on display through Oct. 8 in a heritage exhibit on campus.
Fall prevention is a very important topic. As seniors get older, physical changes and health conditions and sometimes the medications used to treat those conditions make falls more likely.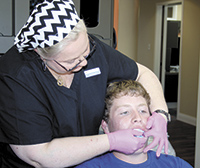 Lynn Mullinax, Dental Assistant, takes an impression of Shelby High School Football center, Jake Appling, for his custom mouth guard at Shelby Dental Care Center.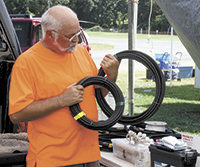 The 58th annual Shelby Hamfest ,"Grand Daddy of them All", was held at the Cleveland County Fairgrounds on Labor Day Weekend, August 30 & 31.