Showing 14 articles from December 9, 2015.
---
Latest News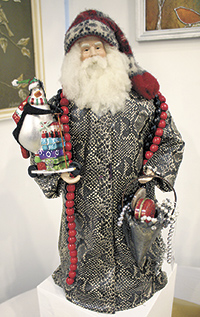 Want to find a one-of-a-kind gift while shopping locally and supporting Cleveland County arts?
Slideshow
Last week we had a tie in the Shelby Shopper & Info Football Contest.
Obituaries
Dorothy Chariker Moss Camp, 78, formerly of Blacksburg passed away December 4, 2015, at White Oak Manor, York, SC.

Gertrude Aldrich Silver, age 93, of Cliffside, NC, died Saturday, December 5, 2015 at the Hospice House of Rutherford County.
GASTONIA- Jacklyn F. Hibberts, 69, died Fri., Dec. 4, 2015, at CaroMont Health in Gastonia.
Kendyl Jane Waters, infant daughter of Brandon and Tara Stowe Waters, was born on December 3, 2015.
Paulette Lanning Gregory, age 68, resident of 509 Valley St. Stanley, NC passed away December 3, 2015 at Caromont Health, Gastonia, NC.
SHELBY- Peggy Bowman Allen, 76, died Sat., Dec. 5, 2015, at her home.
Sports

Many hunters right now have moved from the tree stand to the duck blind.
Church News
Charity Christian School, Fallston
Charity Christian School, 113 Charity Church Road, Lawndale, NC (Fallston), will be holding their Christmas Program Friday, December 11, 2015, at 7:00pm. Refreshments in the fellowship building. Contact them by calling 704-419-4574 or 704-466-8774. Email: charitychristianschool@gmail.com.
Neighborhood Calendar
Casar Elementary School
Please donate new and used items at the Casar Elementary School office for the Angel Tree Benefit Christmas Sale. The sale is on Friday and Saturday, December 11 and 12, 2015, at the old Casar Fire Dept. starting at 8:00am. All proceeds go to benefit Casar Elementary School's Angel Tree. For any questions please call Miranda at 704-538-6077.
Church Directory
Kings Mountain Middle teacher Beverly Owens has received a Rutherford EMC Bright Ideas grant
Rutherford Electric Membership Corporation has awarded 21 teachers with more than $15,900 in Bright Ideas education grants to fund innovative classroom learning projects. More than 3,900 students at schools in Burke, Catawba, Cleveland, Gaston, Lincoln, McDowell, Polk and Rutherford counties will participate in Bright Ideas projects funded by Rutherford EMC this year.
Agriculture Secretary Tom Vilsack today reminded farmers and ranchers that the next general enrollment period for the Conservation Reserve Program (CRP) began, Dec. 1, 2015, and ends on Feb. 26, 2016.
Digital Edition
View Our Digital Edition!
Advertisements