Billy Stevens at Earl Scruggs Center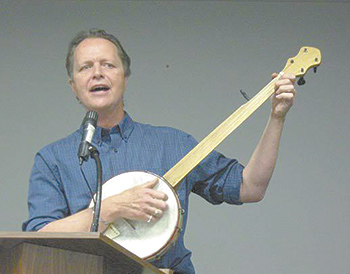 The Earl Scruggs Center's upcoming program Sincere Forms of Flattery: Blacks, Whites, and American Popular Music' by Billy Stevens Wednesday, July, 8th from 1:00-2:00 pm. It will be a fascinating presentation on how historic interactions between African Americans and European Americans shaped the evolution of American popular music. With its roots in slavery and the fusion of musical traditions brought from both Africa and Europe, American music is a natural outgrowth of the unique culture of the American South. From rap stars to rock 'n' rollers, gospel shouters to big band crooners, from Stephen Foster to Elvis Presley, a pattern of contact and conflict between white and black cultures fueled the creation of confluent musical forms recognized worldwide as distinctly American.
Billy Stevens has extensive international touring experience sponsored by the US Information Agency of the Department of State. He has presented his lecture/demonstration "The History of the Blues: the Roots of Rock 'n' Roll" in more than 40 countries including India, Kenya, Israel and Palestine as well as in North and South Carolina. Stevens has many years of experience as a solo artist with a variety of bands. In addition to being a musician and lecturer, he is a world champion carrom player and founder of the United States Carrom Association. His master's degree is from the University of Mississippi.
Call the Earl Scruggs Center at 704-487-6233 or register online at EarlScruggsCenter.org to reserve your free seat. Exhibit admission is additional.
This project is made possible by a grant from the North Carolina Humanities Council, a statewide nonprofit and affiliate of the National Endowment for the Humanities.
The Center is free to Cleveland County residents with valid ID on Wednesdays. Regular hours of operation are Wednesday 10 am - 6 pm, Thursday - Saturday 10 am - 4 pm and Sunday 1 pm - 5 pm. Learn more about the Earl Scruggs Center: Music & Stories from the American South and upcoming events and programs by calling 704-487-6233 or visiting www.earlscruggscenter.org.
The Earl Scruggs Center is a project of Destination Cleveland County, Inc., a non-profit 501©3 whose mission is to unite our county's history, heritage, culture and arts to create a vibrant economy while embracing the future and preserving the past.
Pictured: Billy Stevens
~Photo Provided
Printer-friendly format
---
---