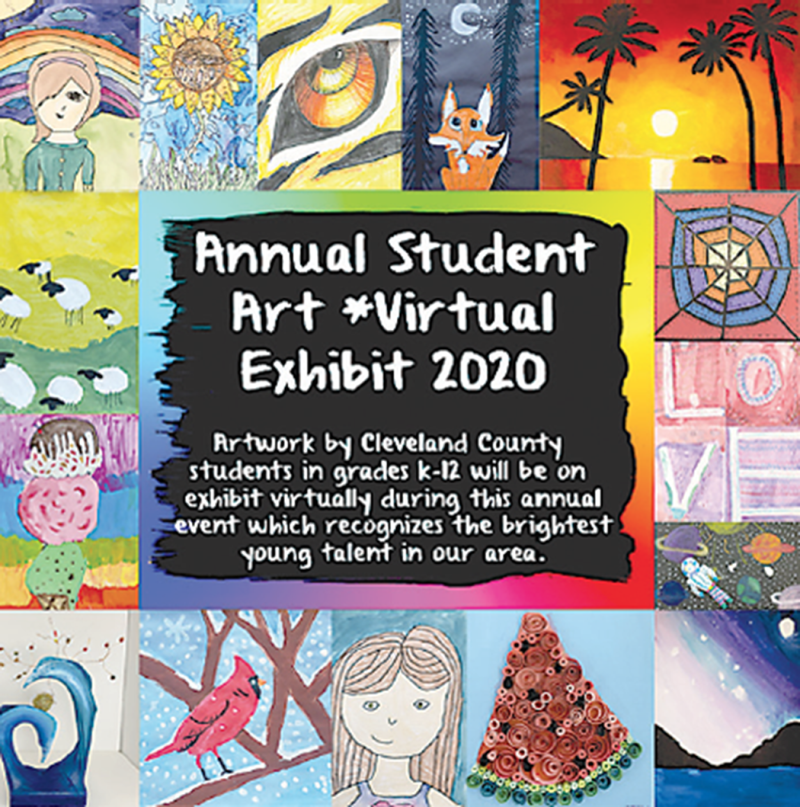 Every year the Cleveland County Arts Council (CCAC) sponsors a Student Art Exhibit that features the artwork of Cleveland County students in grades K-12. And this year, organizers were determined that the show would take place, even if the format had to be changed a bit.
And so, for the first time ever, the Cleveland County Student Art Exhibit will be virtual.
"We know that now more than ever, we are in need of events that inspire hope and the promise of coming together after this time of separation," says CCAC President Shearra Miller. "However, for the health and safety of our students, teachers, staff and everyone involved, we have had to make some adjustments to how we normally do things. This includes the necessity of making the Annual Student Art Show an online exhibit this year."
Unlike previous years, no prizes will be awarded for this year's show.
"There just wasn't a fair way to do it," says Miller. "I really hate it, especially for this year's seniors, but we are very glad that we were still able to pull together this virtual show."
Posting all of the artwork virtually proved to be a formidable task.
"Trying to get all of the artwork into a digital format and then to get all of that posted onto our website was very challenging," says Miller. "But we hope this will actually allow even more people to get to view this amazing collection of art from young people across the county."
Miller says that more than 870 pieces were entered into the show this year, which is actually in line with the number of submissions from prior years.
"In past years we have relied on the county art teachers to submit student work, and in that regard this year was no different," says Miller.
"We do allow individual submissions, but the art teachers provide the bulk of our entries. The fact that they were still able to put these pieces together just shows the dedication of our art teachers."
A wide variety of art is included in the exhibit, from sculpture to painting to textile arts.
"We are always amazed at the incredible creativity and talent of our student artists," says Miller. "We hope everyone in the county will take some time to visit the site and look through the entries."
The exhibit is available for viewing at www.ccartscouncil.org/VirtualStudentArtShow.html.