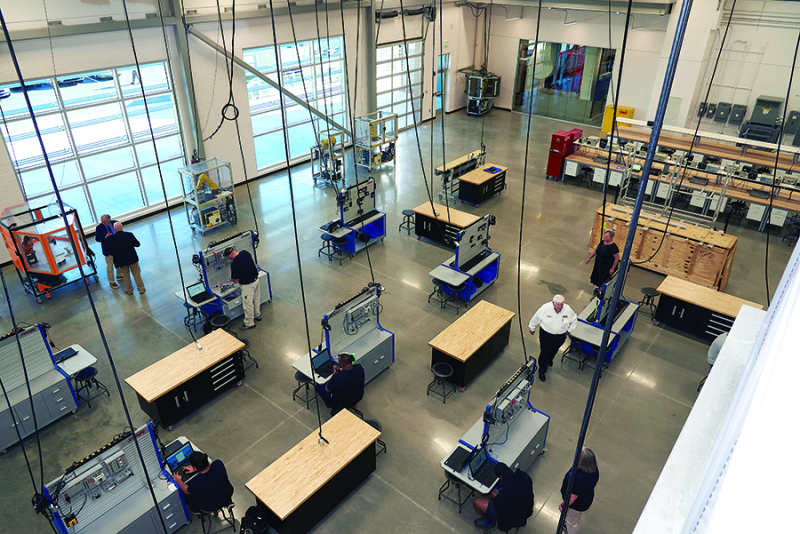 Cleveland Community College cut the ribbon at one of their newest buildings on Wednesday, Sept. 14, 2022 welcoming everyone present to the new Speaker Tim Moore Advanced Technology Center.
Speaker Moore was of course present, along with a host of state, local, and college officials, dignitaries and VIPs who came to get a glimpse at the outside and inside of CCC's latest jewel in their campus's crown.
The opening remarks were given by Dr. Jason Hurst, President of Cleveland Community College, who gave a brief history of the college as well as a cost amount of the building and its equipment - $17 million ($5 million of which is wrapped up in the equipment inside the classrooms). Paula Vess, spokesperson for CCC, said, "The cost of construction was $12 million; if you include the new equipment purchased it's about $17 million."
Dr. Hurst continued, "We are fortunate to have a delegation who serves us well."
He also thanked everyone present who had a hand in bringing the building project to fruition, noting that, "...six years ago the (CCC) Board approved the building's construction," adding that the overall project, "...spans (the tenure of) three (college) presidents."
Architects for the project were Holland & Hamrick, represented at the event by Mr. Patrick McMurry, who Ms. Vess noted was "the principal designer on the project." Construction work, Vess noted, was done by Cherryville's Beam Construction, under the guidance of President Susan Lewis and VP Justin Boheler.
Speaker Moore, for whom the building is named, took the podium, and mentioned Sen. Ted Alexander and Rep. Kelly Hastings for their work and support in seeing the building come to pass.
Bill Turpish, chairman of the CCC Board of Trustees, greeted everyone and said, "This day has been a long time in coming. This (ATC) building is more than just a new building on campus. It provides an opportunity to change students' lives by being able to compete in the real world."
Golden LEAF Foundation President and CEO, Scott Hamilton, said their group always looks at projects that receive their funding as investments.
In addition to those already mentioned, others present at the event and who also spoke briefly were Dr. Bill Carver, President of the N.C. Community College System Office; Mr. Kevin Gordon, Chairman of the Cleveland County Board of Commissioners; and Ms. Kristin Reese, Executive Director of the Cleveland County Economic Development Partnership.
Ms. Vess said that classes have already started meeting in the building, so it is now fully open.
She also noted, "The programs housed in the Speaker Tim Moore Advanced Technology Center are: Electrical Engineering, Automation Engineering, Industrial Systems, Facilities Maintenance, Machining, and Mechanical Drafting."
Rep. Hastings commented that, "Innovative projects like this one and others in our area and across the state help our efforts to make it possible for people to achieve economic security," adding, "I am honored that the people trust me enough to allow me to be part of the team that supports these and other innovative and necessary projects."
For more information on this building and its classes and other Cleveland Community College information, visit their web site at www.clevelandcc.edu.