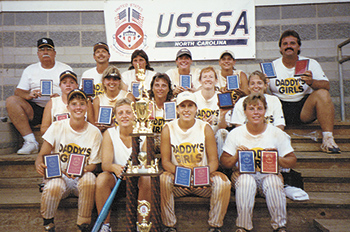 Some people know him as "Big Bill." Others called him "Big Daddy." But the name "Bill Champion" is what is engraved on the North Carolina USSSA (United States Slow-pitch Softball Association) Hall of Fame trophy. The trophy was presented to Champion in a ceremony in Raleigh on Jan. 9, 2016. He was one of six inductees into the Hall of Fame for 2015.
Born and raised in Cleveland County, Champion first got involved in softball in 1960 when he worked at Orin Mill and played on the company team. After being drafted and serving time in the army, Champion returned to the area and settled down. A few years later he and his wife attended a few softball games. Champion was hooked, soon getting involved in almost every aspect of the game - playing, coaching, managing, sponsoring and even organizing traveling teams.
"The thing that is unique about Bill is his absolute love of the game," said David Fisher, who nominated Champion for the Hall of Fame. "And he didn't just support his teams, he supported everyone who played. He was there every time there was a game, and he was always a good sport. If his team lost to yours, he was the first to congratulate you."
"Everybody's got their thing, and softball is mine," says Champion.
And Champion's love for the game spilled over to those who played on his teams, as well. In the early years, Champion played and coached on men's teams. Then, as the years went by and softball became more popular among girls, he began sponsoring and coaching girls' teams. Several of those girls' teams made it to national and even world competitions.
"He sponsored us, coached us, and he was just always there," says Elizabeth "Bit" Ray, a former player on a number of Champion's teams. "He became a daddy to us all."
Because of his relationship with the girls, Champion's team adopted the name "Daddy's Girls."
A number of these former "Daddy's Girls" teammates surprised Champion by attending the Hall of Fame ceremony.
"We wanted to surprise him and show him how much he means to us," says Ray. "And we wanted to thank him for making it possible for us to travel, make lots of friends and make some great memories," says Ray.
"He had a huge impact on softball in this area," says Fisher. "I have never met anybody who loved the game more."
By April Shauf, Special to Shelby Shopper & Info