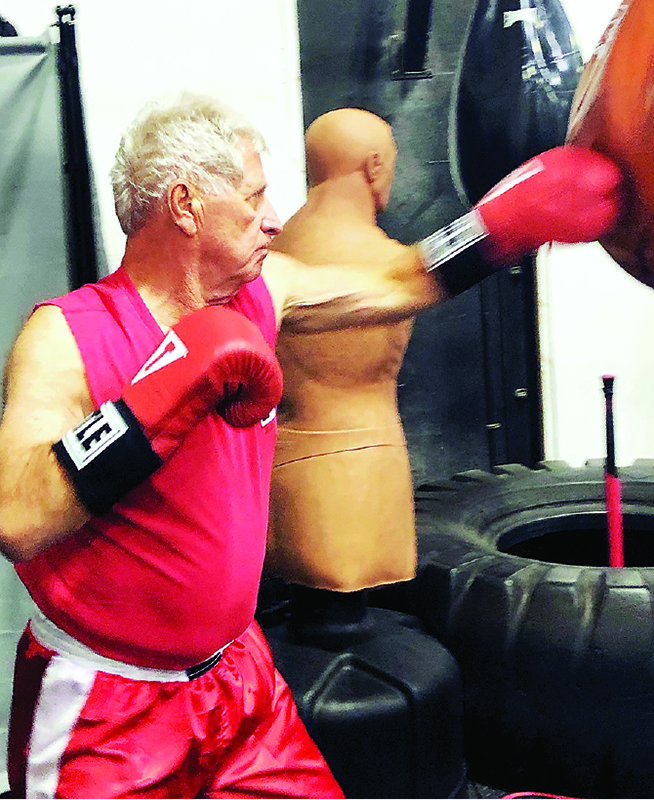 Knocks down his opponent in 20 seconds; wins title belt
Cherryville Golf and Country Club owner and operator, Dan Arthurs, is a boxing practitioner of the "Sweet Science" and has been for most of his life. As a matter of fact, according to Arthurs, he has been fighting for most of his life, though many times it was not really for any sort of fame or fortune, and sometimes it had to do with... well, keeping someone from hurting him or his loved ones and friends; basically just staying safe.
To say he has seen more than his share of battles is an understatement; he's a scrapper, make no mistake of that!
That said, it should then come as no surprise to anyone who knows him that he loves a challenge and when one came his way recently, in the way of boxing in the USA Masters Boxing Invitational tournament, which took place at the Las Vegas International Sports Center, Arthurs, at age 69, went out there, registered, boxed in a match and won a Title Belt in boxing.
The venue was located on Dean Martin Boulevard, said Arthurs.
According to the web site, usamastersboxing.com/lasvegas, "...the 2023 Las Vegas Masters Boxing Championships is sponsored by Title Boxing and brought to spectators by Rick Avery And Manny Fernandez for Las Vegas Masters Boxing Club."
When asked why he, at his current age, undertook such an endeavor, Arthurs, a man who doesn't waste words, smiled and said, "Well, to see if I could do it!" He added, "I always missed it (boxing), and I wanted to see if I still had it."
Dan said he filled out the forms, got a stress test, donned a pair of red boxing gloves supplied by the Las Vegas folks, then stepped into Ring Two on Saturday, Feb. 25, and proceeded to take on and knock down for the count, Randy Braden, 71, from Arizona, in the third title bout on the card. On that card, Arthurs' weight was listed as 154 while Braden's was listed at 160. Dan said the fight can be viewed on You Tube by going to the boxing group's site and keying on the third bout for that Saturday date.
"The registration fee was $150 and there was no money in it, so far as a purse was concerned. It was a match for those 35 and older, non-professional fighters who wanted to step into the ring and see what they could do," said Arthurs.
Dan said he started boxing in 1968. "My dad brought it up to me and I started boxing at the Gastonia Boxing Club. I was 14 when I started and I fought for about five years." he said, adding he has won Golden and Silver Gloves matches, even taking part in eight fights in one weekend.
"I've won several tournaments and fought for a number of boxing clubs," said Dan.
After winning the belt, which he had with him the day of the interview, at the Cherryville Golf and Country Club, 1960's Middleweight champ Joe Cortez presented it to him. Arthurs noted Cortez is in the Boxing Hall of Fame, mainly for refereeing over 35 title bouts in his career. He also owns and operates a gym in Las Vegas.
"He has 'reffed' Mike Tyson eight times," said Dan.
Referring to his own match that Saturday, Arthurs said, "I knocked my guy down in 20 seconds. Cortez told me I had a mean left hook!"
Members of Arthurs' group who went with him were his girlfriend, Jennifer Childers, Sadie Broome, Stephanie Jimmo, Monica Bentley, his two grandsons, Jude and Connor Bentley, and friends Keelan and Linda Childers.
As for any future boxing plans, Arthurs said, in his characteristic no-nonsense, man-of-few-words style, "I don't know. I haven't decided. There are a couple of things coming up, but..." After a brief pause, he smiled and added, "My only thing is, I don't sit still..."