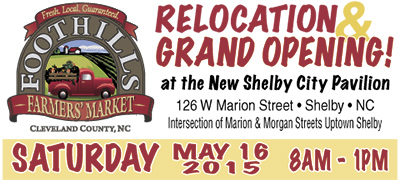 The Foothills Farmers' Market is moving to the new Shelby City Pavilion located at 126 West Marion Street in Uptown Shelby. Formerly located on Washington Street, the Market offers 100% local produce, meat, eggs, baked goods and hand crafted items.
Join in the Grand Opening celebration with... LIVE MUSIC from HARVEST
Children's Activities, Food, Cooking Demonstration, Fresh-Local Produce, Eggs, Baked Goods, Meat & More!
Sponsored by Friends of the Market:
Alliance for Health • Backstage Productions • CCC Small Business Center
Cornerstone Dental • Eaton Kings Mountain • Gale Elmore, CPA
Farm Bureau Cleveland County • King Law Offices • Paradise Landscaping & Garden Center
Plaster Family Dentistry • Visual Eyes Optometric
www.foothillsfarmersmarket.com
or find us on Facebook for event details
The City Pavilion will be the permanent home for the Uptown Shelby Foothills Farmers' Market. Visit the Market each Saturday from now until December to shop for your local farm-fresh produce, eggs, meat, baked goods and arts & crafts. Hours of operation are Saturday 8 until Noon. Look for Wednesday hours coming soon.