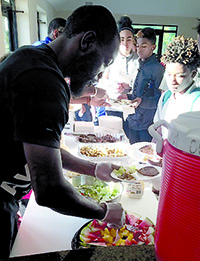 Every Friday evening since the beginning of September, a number of local families have gathered in the fellowship hall of the Episcopal Church of the Redeemer, just next door to the Boys & Girls Clubs of Cleveland County (BGCCC) on West Sumter Street in Shelby. They gather not for a church service or a sporting event, but for a meal. And not just any meal - this meal is a healthy one that they learn to plan, prepare and enjoy together.
These gatherings are part of a $50,000 grant received by the BGCCC from the Walmart Foundation to deliver a program to help families make healthy choices about food. The program, called Families Investing in Sustainable Health (FISH), offers families the opportunity to learn how to create a menu, prepare the food and enjoy a family meal. Joshua Propst, BGCCC executive director, developed the grant proposal as part of the club's efforts to promote healthy lifestyles.
"The long-term goal of the program is to have families help in selecting the menu, preparing the meal and understanding how to control the cost of a meal by making healthy choices," says FISH Chef Travis Pettis.
Pettis is no stranger to the BGCCC. He grew up in the community and participated in the club as a youth. After graduating from Shelby High School, he went on to work in the food industry, including three years as a sous chef for the Carolina Panthers and later owning his own catering company and working as a chef at the Cleveland County Country Club.
"It feels great to be able to come and give back to this club that meant so much to me growing up," says Pettis, who also coached basketball and track for the BGCCC before being recruited by Propst to serve as the chef for the FISH program.
"Over the past four weeks, we have served more than 180 meals to club members and their families," says Propst. Meals in the program are prepared with fresh ingredients, which sometimes even include vegetables grown by the kids themselves in the BGCCC garden, also located on the Episcopal Church property.
"These meals are really opening the eyes of some of our kids to the idea that healthy food actually tastes good," says Propst. "When they realize that many of the foods that were prepared came from their own club garden, which they helped to tend, they get really excited. It makes the food taste even better!"
The program has served another purpose as well, according to BGCCC staff member Suzanna Silva.
"This program has created a wonderful opportunity for the Boys & Girls Club members and their families - as well as our staff - to enjoy a healthy meal together and to get to know each other," she says. "It really creates a sense of community."
For more information about the FISH program, contact the Boys & Girls Clubs at 704-471- 2582.
By April Hoyle Shauf
Special to Community First Media