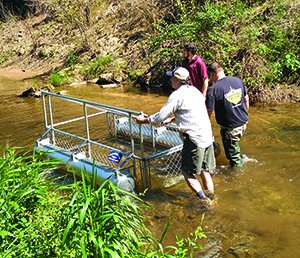 There's a new trash collector in town and its name is Trash Trout, Jr. The wire and steel contraption was installed Tuesday, May 10 in Hickory Creek in Shelby by Broad Riverkeeper David Caldwell and City of Shelby Stormwater/Engineering Coordinator Tyler Brooks and a couple of helpers.
Its purpose, according to information from Mr. Brooks and Mr. Caldwell, is to collect floating plastic and similar debris that finds its way into the creek via stormwater runoff.
Broad Riverkeeper Caldwell noted the installation took six people about three hours.
"The device will need to be cleaned out periodically, especially after rain events," he said.
The trash trap is made by Asheville GreenWorks, who Caldwell said is the only company in our area who makes the devices.
Caldwell also noted that 14 Riverkeepers from across North Carolina were awarded an Environmental Enhancement Grant through the NC Attorney General's Office (https://ncdoj.gov/protecting-the-environment/eeg/), and each Riverkeeper is to install a Trash Trout, which costs about $4,000, in a stream within their watershed. The one in Shelby's Hickory Creek is the small unit, called a Trash Trout, Jr.
"They will also conduct water sampling upstream and downstream of the litter collection device to determine the extent of plastics and microplastics pollution. This program is an effort to inform the public about water quality and the effects of plastics in our environment. It will also help to reduce floating trash that would eventually end up in our rivers and lakes," said Caldwell.
Brooks said the City of Shelby heard of this unique mechanism as their Stormwater Division has had a great partnership through the years with the Broad Riverkeeper, David Caldwell, working together to improve water quality.
Said Brooks, "Recently we were approached by David to partner with him on installing a 'Trash Trout' in the city to help improve water quality by removing trash as it floats down the creek. The city was able to provide Kings Road Park as a location for the installation of the device and will assist with the maintenance of the device."
Brooks continued, "The City of Shelby is always interested in opportunities such as the one offered by the Broad Riverkeeper.We will monitor the performance of this device and may look for additional opportunities in the future."
Brooks gave a brief description of how the device works.
"When rainwater falls on an impervious surface such as a roof or pavement, this water runs off into the nearest storm drain or ditch. Sometimes this runoff picks up pollutants suchasoil,
sediment, pet waste, garbage, chemicals and yard waste. This runoff then flows directly into our creeks and streams untreated."
He continued, "In an effort to reduce stormwater pollution, the City of Shelby Stormwater Division works to educate the public on these matters through avenues such as educational booths at public events, public presentations, social media posts and educational bill stuffers. The city also hosts multiple roadside and creek/river litter sweeps each year, where the city solicits volunteers to help improve water quality by picking up trash." Caldwell said, "We are looking for volunteers to help with the clean-outs. Please contact Tyler Brooks, at tyler.brooks@cityofshelby.com, or myself, David Caldwell, at david@mountaintrue.org, if you would like to help."
For more information on volunteer opportunities or to report stormwater pollution please contact the City Stormwater Division at (704) 484-6866, or stormwater@cityofshelby.com.