Grover Rescue Squad Sponsors Pumpkin Festival and Haunted Trails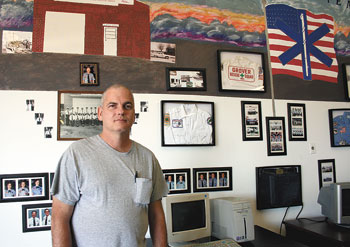 During the month of October the rescue squad is hosting several events. Their recent garage sale on October 7th and 8th was very successful. All the money raised is going to fund the squad in much needed supplies. They are also having a raffle for a 32" HD flat panel television and a karaoke machine. The raffle will continue through the Grover Pumpkin Festival, that will be held on Saturday, October 29th. Tickets are only $2 and the winner does not have to be present to win. The Grover Pumpkin Festival is a fun filled event that you won't want to miss. Live entertainment will be on stage in front of the firehouse, featuring local favorite Travis Powell. If you are up for a good scare then the Haunted Trail is for you. It starts on Friday October 28th at sunset and goes through Monday, October 31st. A hayride, that begins at the squad building, drops you off at the Haunted Trails and brings you back.
Grover Rescue Squad Chief, Ken Childers, is pictured in front of the Memory Wall. Chief Childers has been with the squad for 27 years. Visit the chief and other members of the squad at Grover's Inaugural Pumpkin Festival on Saturday, October 29th.


Printer-friendly format
---
---