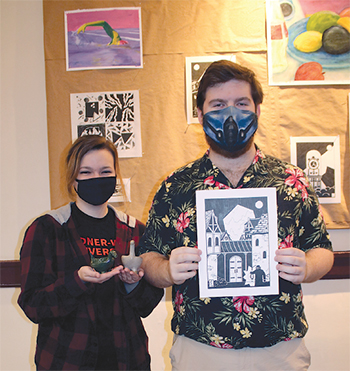 For Chris Dover and Shaila Hart the pandemic during the past year has been hard in a number of ways. Besides all of the worries about health and social distancing, these two Gardner-Webb University (GWU) art students have had to try to find a way to learn handson skills virtually.
"I just have not been as productive during quarantine," says Dover, who is a senior art major from Boiling Springs. "I find that I really thrive in my creativity when I am around other students and seeing their work. That inspires me in my own work."
Hart, a sophomore art minor from Clemmons, NC, has had a different problem.
"I find that I really want to do a lot of creative artwork in times of stress - the work helps me to feel better," she says. "But the result is that I have a lot of artwork that has piled up that I don't have room to store."
This issue was compounded when the GWU art department was forced to postpone/ cancel its annual Christmas Art Sale due to Covid-19 restrictions. Usually, students sell their excess work during this event and it serves both to help them financially as well as getting their artwork out into the community.
So this spring, the GWU art club, of which Dover is president and Hart is secretary, decided to take advantage of easing restrictions to hold a Spring Art Sale outside. The event is scheduled for Saturday, April 24 from 9 a.m. - 7 p.m. outside of the Communication Studies building on the GWU campus.
"We really hope local community members will come out and support this sale," says Dover. "We will be offering unique and creative pieces that we think our customers will love."
Items for sale will include pottery, fiber arts, watercolors, paper crafts, hand towels, lavender products, jewelry, ceramics, paintings, photography and floral arrangements.
While operating the sale, art students will also learn practical skills.
"The sale gives them hands-on experience in learning to market their wares," says Paula Casper, GWU assistant professor of art and art club advisor. "This process includes everything from production, presentation, and sales to receiving and welcoming feedback, and interacting with their potential and actual customers."
Students in the art club will keep 85 percent of the sale price, while the club collects 15 percent.
"This system serves a dual purpose in that it educates the students about the mechanics of an actual art marketplace and collectively provides a lucrative source of funds for the advancement of their artistic experiences while here at GWU," Casper says.
The money collected by the GWU art club has been used to help the students go on art-related trips both locallymand abroad. In the past such trips haveincluded ceramic wood-firings in Dillsboro,and Rutherfordton; the High Museum in Atlanta, Georgia; numerous art museums in Charlotte; the Smithsonian and the National Gallery of Art in Washington, D.C.; the Metropolitan and the Guggenheim in New York City; and locales in southern France, Italy and Greece.
For more information about the art sale, search for "Gardner-Webb University Department of Visual Arts" on Facebook, visit the GWU website at www.Gardner- Webb.edu or contact Dover by email at cdover3@gardner-webb.edu.